Officials are reminding people of the dangers of attempting to walk, skate or drive on frozen streams, rivers and ponds in the D.C. area.
In freezing Sterling, Virginia, someone drove an SUV onto the icy Potomac River on New Year's Day near Algonkian Regional Park.
The ice gave way, and the vehicle got stuck near the shoreline.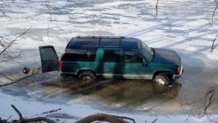 Fortunately, everyone inside the SUV was able to get out, but a crew needed to tow out the vehicle.
Despite the unseasonably cold temperatures in the past few weeks, ice that has formed on waterways may not be thick enough for skating, walking or driving.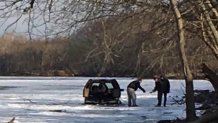 Many communities in Loudoun County prohibit ice skating on frozen ponds.
Local
Washington, D.C., Maryland and Virginia local news, events and information
"If you live near a waterway, we ask that you remain watchful for children attempting to venture onto the ice," Loudoun County Sheriff Mike Chapman said. "It is also important for parents to speak with their children about the dangers of walking and playing on frozen ponds and rivers."
The National Park Service said people can ice skate on the C&O Canal, but there are certain areas where it is not allowed. Skating is not permitted between mile markers 12.6 and 13.4 near Great Falls, NPS spokeswoman Jenny Anzelmo-Sarles said.
Skating is allowed at the Constitution Gardens lake at the National Mall. Skating is not allowed on any other bodies of water on the Mall.
[NATL] Extreme Cold Follows East Coast Winter Storm
In Frederick, Maryland, city officials said no skating is allowed on Culler Lake, because the water is not sufficiently frozen to ensure safety. They said skating has not been allowed on the lake for decades, and signs are posted to alert the public.
Officials caution against attempting to enter water or go on ice to rescue a person or animal. Instead, they said people should call 911 and attempt to extend an object, like a tree branch or rope, and never attempt to enter the water.