A 19-year-old man has been arrested and charged after police say surveillance video showed him punching, kicking and pepper-spraying employees while trying to steal wigs from a store in Silver Spring, Maryland.
Curtis Pegues, of Temple Hills, has been arrested and charged with armed robbery and first-degree assault, Montgomery County police said. Pegues is being held without bond.
Two other suspects were also involved in the robbery. Charges are pending against a 14-year-old boy from D.C., police said. The third suspect still hasn't been identified.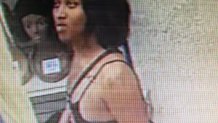 Montgomery County police said they received numerous tips from the public about the suspects' identities after releasing surveillance video of the violent robbery.
The video shows Pegues and two others assault employees at Esther's Beauty on Georgia Avenue on July 27, police said.
During the confrontation, the man who police identified as Pegues can be seen pushing and kicking a 59-year-old woman who works at the store when she tries to get a wig back from him.
Local
Washington, D.C., Maryland and Virginia local news, events and information
Another store employee, a 74-year-old man, then tries to stop the suspects at the door. But the situation quickly turns hairy when two suspects hold him against the door. One of them appears to be smiling and laughing the whole time.
Then, video shows the man identified as Pegues and the 74-year-old man get into a knock-out brawl that spills down an aisle of the store and back to the front of the store, where the woman employee also gets involved. Wig displays fall everywhere during the fight and the woman uses a wig-less mannequin to fend off the suspect.
Meanwhile, the two other suspects manage to get out of the front door of the store.
Eventually, the man police identified as Pegues kicks and punches his way out, but he comes back again, opens the door, kicks the man employee and snatches the wig that he had dropped on the floor.
Police said the one wig that the suspects managed to steal was worth about $80.
The employees at the store went to the hospital with non-life threatening injuries, police said.
Police are asking anyone who knows the identity of the third suspect to call 240-773-5070.