Monday will mark four years since the death of Chuck Brown, the guitarist and genre innovator who cultivated D.C.'s own funk sound, go-go, during the 1970s.
But the memory of the Godfather of Go-Go continues to live on, now with the first celebration of Go-Go New Music Day on Friday. Go-go artists across the area, including The Chuck Brown Band, plan to release new music in Brown's honor.
The event -- which planners hope will happen annually -- will also include an evening of music Saturday at the Howard Theatre (620 T St. NW), featuring The Chuck Brown Band and supporting acts that include other go-go favorites Junkyard Band and Sugar Bear and EU. (Tickets are available online.)
The Chuck Brown Band will follow up Brown's last album, "Beautiful Life" --released two years after his death -- with a brand-new song called "Show Me Love."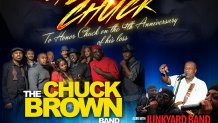 "It's about showing love and that's really what Chuck Brown was all about," Brown's guitarist and vocalist Frank "Scooby" Sirius told NBC4 in an interview. "He was about showing the city love; he loved this city, he loved the music."
Local
Washington, D.C., Maryland and Virginia local news, events and information
KK Brown, one of the band's vocalists and Brown's daughter, said, "Originality was my father's main goal in go-go music."
She and keyboardist Sweet Cherie are both excited about the new releases. Sweet Cherie has played keys for Brown's band for more than 10 years and she believes it's time for new music.
"A lot of bands today, we play a lot of cover tunes and every band plays the same thing and it gets a little redundant," she said.
Chuck Brown: In Memoriam
She's also a member of Be'la Dona, an all-female go-go band that's looking to release original music for the first time.
Other go-go artists planning to drop new music include Junkyard Band, Backyard Band and Michelle Blackwell. Last week, Rare Essence dropped their first studio album in more than a decade.
For KK Brown, honoring her father's legacy through new music is the best way to remember him.
"I used to cry all the time but I stopped because I remembered -- before he passed away he told me -- he didn't want us crying," KK Brown said. "He wanted us celebrating him and partying."
Sweet Cherie said, "I know that Chuck is smiling down upon us because of the progress that everybody's making."
Brown died at age 75 in 2012 due to complications from pneumonia.