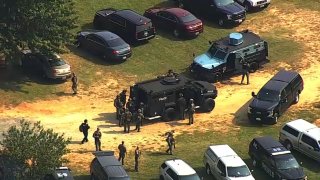 Editor's note: Police no longer believe a shooting caused the police cruiser's windshield to shatter. They are investigating the cause. This article is no longer being updated. The most recent article can be found here.
Police in Maryland said they're looking for a person they believe is a teen armed with a gun in Anne Arundel County, hours after the window of a responding officer's cruiser was shattered.
Anne Arundel County police Lt. Jaclyn Davis said a woman walking in the woods in the Cape Saint Claire area came across a teen with what looked like a handgun, and when she asked him what he was doing, he replied that he was "shooting small critters."
The woman alerted police, Davis said, and when an officer responded to the area of Blue Ridge and Hilltop drives about 9:30 a.m., he heard a pop and his cruiser's window shattered. No officers were injured.
Police asked residents in the area to shelter in place.
Police are searching for the shooter. A large police presence, including SWAT, responded.
The shooting scene is near Cape St. Claire Elementary School. Broadneck High School and Cape St. Claire Elementary sheltered in place, Anne Arundel County Public Schools said. No one was allowed in or out of either school.
Police tweeted after 1:30 p.m. there was no longer a need to shelter in place, saying they do not believe there is a threat to the public. Davis said investigators believe they have a strong lead.
Stay with NBCWashington for developments in this breaking story.