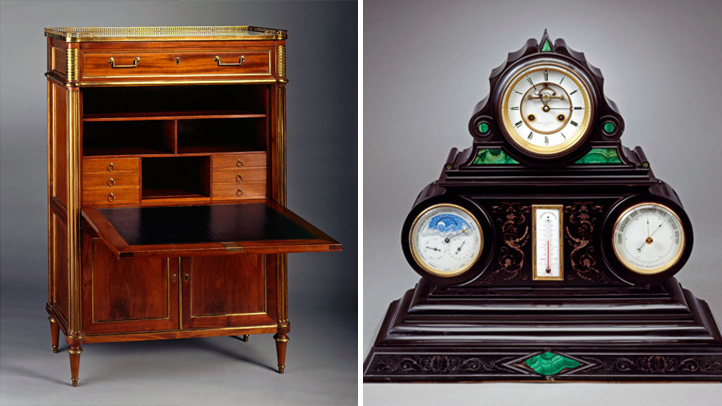 Ever wanted to take a closer peek at the most famous house in the country? Well, here's your opportunity... unless you'd rather take a chance and run for the highest public office in the country.
"Something of Splendor: Decorative Arts from the White House" opens Oct. 1 at the Renwick Gallery (1661 Pennsylvania Ave. N.W.), the Smithsonian's branch museum for craft and decorative arts.
The exhibit features 95 objects, including furniture, ceramics, metals, glass and textiles from the permanent collection of the White House.
Says the Renwick Gallery's website:
The White House interiors were refurbished repeatedly in modern styles throughout the nineteenth century. In 1902, noted New York architects McKim, Mead & White were hired to make the interior of the White House more stylistically compatible with its late eighteenth-century architecture. This major renovation, accompanied by significant sales of old furnishings, gave the public rooms a more formal and ceremonial character that they retain today.

Many objects have grown venerable with the building, while others have been acquired as part of an ongoing program, begun in 1961 by First Lady Jacqueline Kennedy, to restore the historical ambience of the rooms
Many of the objects were created by some of the most renowned craftsmen of their time, and some of the items have never been seen outside of the White House. At the museum, you can also catch the documentary "At Home in the White House," which features interviews with Susan Ford Bales, Laura Bush, Rosalynn Carter, Tricia Nixon Cox and Lynda Bird Johnson Robb.
The exhibit runs through May 6, 2012.
---
Check Out the Scene: Keep up with what's happening in the D.C. area anytime, anywhere. Follow us on Twitter and Facebook. Sign up for our e-mail newsletters.