A school bus with students with special needs on board sunk into a sinkhole Tuesday evening in the Petworth neighborhood of Northwest D.C.
The bus fell into the sinkhole on the 1100 block of Allison Street NW, near Georgia Avenue, a D.C. fire department representative said about 3:40 p.m.
The passenger-side rear tire was submerged in the hole about a foot deep.
"I seen the bus go down into the hole and get stuck. The bus couldn't move," neighbor Corey Sanders said.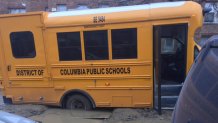 Students on board were escorted outside through an emergency exit. They were taken to a nearby building to stay warm on the cold night. No injuries were reported.
Sanders said he had reported the sinkhole multiple times over the past two weeks.
Local
Washington, D.C., Maryland and Virginia local news, events and information
"Numerous calls were placed to the 311 call center with regards to cars getting stuck, and nobody came out to repair the hole," he said.
The D.C. 311 map shows multiple reports of potholes in the area.
A car got stuck in the sinkhole Monday, Sanders said. He said someone had placed a cone near the hole.
The school bus driver attempted to pass over the marked sinkhole, the fire department said.
By 6 p.m., the students had been picked up by another bus and the first bus had been towed.