For most people, it's now habit to check out what other customers are saying before making a purchase, but the News4 I-Team found a whole industry of fake online reviews designed to deceive. They can be not only misleading, but damaging.
Industry estimates show 80 percent of customers read reviews posted on Yelp, Google or Amazon.
But how do you know that glowing five-star favorite is from someone who really used the product? Or that the woeful one-star review isn't from a conniving competitor?
"I usually read them. I'm terrible about doing them," Erik Thomas told the I-Team.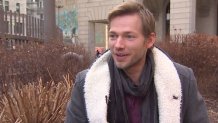 But you wouldn't know that based on several reviews we found online, including an insurance company in Colorado, a towing company in Georgia, a locksmith in Washington, D.C. — all of them featured Thomas' picture with the reviewer's name listed as Albert Morrison.
"I don't even know what they do," said Thomas of the variety of companies reviewed.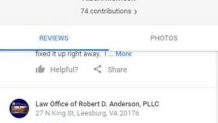 One of the five-star reviews featuring Thomas' photo recommended the Law Office of Robert Anderson in Leesburg, touting the attorney's skills in a DWI case. Thomas has never even been to Leesburg; he's a former actor living in Los Angeles.
Local
Washington, D.C., Maryland and Virginia local news, events and information
"It really bothers me. It does feel like a violation of my character," Thomas said.
Robert Anderson is a former chief prosecutor for Loudoun County and told the I-Team his law office does not monitor its online Google reviews. He said he had no idea where that post came from and that he's never had a client named Albert Morrison.
Anderson's law firm has two additional five-star Google reviews with photos included. The I-Team was able to locate one of those pictures on a website for free stock photos, and the other is a fashion model. Anderson confirmed the names associated with those posts were never clients.
Jason Brown has outed thousands of businesses with suspicious reviews on his website, www.reviewfraud.org, including hundreds in the Washington, D.C., area.
"I'd say billions of people are being tricked by these reviews," said Brown, who's made it his mission to warn customers.
"I laugh at the absurdity of some reviews I find," said Brown.
Like the five-star reviews he spotted for Virginia Beach Movers and Movers Norfolk posted by Larry Korey. The picture the reviewer used is Maryland Gov. Larry Hogan!
Hogan's office assured the I-Team "the governor is not writing vendor reviews on the internet in his spare time."
But the I-Team found out who did.
A Review-Writing Racket
Both moving companies are managed by the same guy, who said it was a Ukranian advertising agency they hired a few months ago that actually posted the fake reviews — without the company's knowledge.
After News4 asked about them, those reviews were deleted.
Brown said that's not unusual. There's a thriving online market selling positive reviews here in the U.S. and overseas.
The I-Team easily found Craigslist ads around the country from individuals offering to write and post fake reviews for a price.
One fake reviewer wrote, "Just send me a link to your business or the name and location, and a brief description of what you want me to say. After review is posted, just send 20 dollars."
Another wrote, "For paid 5-star reviews, I don't have to visit the business... I 'check in' via the app and post a positive review."
The I-Team even found a company based in Asia with an online YouTube video advertising its business of "a network of accounts in all major cities that can help boost your ratings by posting positive reviews." It offers package deals ranging from $50 to $120.
The Federal Trade Commission knows it's a big problem and brings action against companies to make them stop.
"Fake reviews are illegal. So, to buy or to sell a review that's fake is illegal," said Mary Engle, associate director of the FTC's Division of Advertising Practices.
Engle admits that policing companies operating overseas is a challenge.
"We always think of ourselves as traffic cops who are trying to keep the worst violators off the roads, knowing that we're never going to prevent all speeding," said Engle.
The FTC said another problem is reviewers who don't disclose that they get the product for free or are paid to review it.
Google and Yelp told the I-Team they're trying to do their part, using automated systems to detect fraud.
Yelp admits about 20 percent of reviews submitted are questionable and allows users to flag them.
Brown has some advice for savvy shoppers.
"Check different platforms," he said. "See what they say on Google. See what they say on the Better Business Bureau too. See what they say on Facebook and on Yelp."
The FTC says you should be wary when lots of similar reviews are posted at once, when a reviewer has posted touting companies in multiple states, and it never hurts to run a Google-Image search for that profile pic if you doubt a review is real.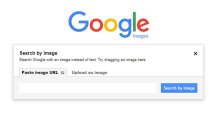 "It does kind of concern me a little bit that somebody is out there saying I got a DWI," said Erik Thomas, who had never seen the law office review until the I-Team showed it to him. "It just reinforces the notion that you can't really trust anything online sometimes."
It's (Not) Written in the Stars
A Maryland company called Furniture Assembly Experts has plenty of five-star reviews posted online, touting an "excellent job," a customer that was "very pleased," and describing the service as "professional and efficient."
But Diane DeBernardo said that wasn't the experience she had with the company.
"I just don't think this company is good enough to get a five-star review from anybody," said DeBernardo.
She posted a scathing one-star review after she says the company kept her waiting for weeks to finish assembling the shed in her backyard.
"And they never came," said DeBernardo. "They were so terrible ... and then I had trouble getting my money back."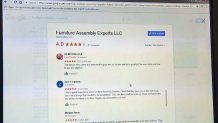 Colin Dorrity also posted a one-star review after hiring the same company to construct his patio set.
"My entire afternoon Friday was wasted and a good chunk of my day Saturday was wasted," Dorrity told the I-Team.
He said he had to call the company at least 10 times.
"At one point when I had the woman on the phone she said the technician is pulling into your driveway right now. What's interesting is, I don't have a driveway," recounted Dorrity.
He calls it some of the worst customer service he's ever experienced, and being an avid reader of reviews, he decided to post his experience on Amazon, Yelp and Google to warn other potential customers.
But when he looked at the other glowing reviews that were already posted, he became suspicious.
"There'd be a one-star review and then a pattern of several five-star reviews," said Dorrity.
The Federal Trade Commission says that's a red flag for fake reviews, which are illegal.
"If you see a lot of reviews posted for a product at the same time, it's highly unlikely that that occurred naturally," said the FTC's Engle. "Another possibility might be if someone's reviewing a local establishment and their address is far from there."
It is illegal to post reviews that are misleading, fake or don't disclose a relationship between the customer and the business.
The Pic Is Worth a Thousand Words
The FTC says the reviewer's profile picture can be another tip-off.
One of Furniture Assembly Experts' five-star reviewers, Michael Snow, raved about the company writing, "I greatly appreciate the excellent work." The photo attached to the review is actually filmmaker Morgan Spurlock.
Another five-star reviewer, Seema Patel, posted "money well spent." The woman pictured in that review is actually from South Asia, and has a different name.
Then there's Arjun Patel, a five-star reviewer who was very happy with how his bunk beds turned out.
But the picture he used is of first son Barron Trump.
The I-Team asked the White House about the review but got no comment on whether there are new beds at 1600 Pennsylvania Avenue.
Furniture Assembly Experts is one of the companies Jason Brown has listed on his website, which tracks companies from around the country with fake reviews.
"When people are falsifying these reviews, they're taking advantage of people," said Brown.
He said some businesses pay for positive reviews, mainly from companies overseas.
"I think predominately they're being generated in India," said Brown.
So, the I-Team reached out to the man in charge of Furniture Assembly Experts to see what he knew about his company's online reviews.
A Song and a Dance
Dave Song initially told us by phone he doesn't look at them, doesn't think they're accurate and had no idea why someone would post a fake review raving about his company.
But after agreeing to do an interview, Song stopped returning our calls, so the I-Team paid him a visit and found him hard at work outside his office in Lanham.
When the I-Team approached offering the man a chance to explain the suspicious reviews promoting his business, he replied, "Have a good day. I don't know who you're looking for."
He denied even being Dave Song, but after peeling away in his Mercedes, an employee inside confirmed to an I-Team producer he was the right guy.
But the I-Team found, there is one type of review Dave Song cares about.
"Someone from the company called me back in the evening and said, 'We will refund all of your money if you take the Amazon review down," said Dorrity.
On Amazon Services, only verified customers can write reviews, so they're harder to influence.
Dorrity says once a worker finally showed up, two days late, he did a good job assembling the patio furniture.
"And there was an apology as well, which I appreciated," added Dorrity.
On the phone, Song told the I-Team he does sometimes offer refunds to customers who remove bad Amazon reviews — a sign of just how important they are for companies and customers.
The FTC recommends that consumers who rely on reviews should look for specific details about the user experience or quality of a product when weighing consideration of a review.
"I consider myself a healthy skeptic," said Dorrity. "But I do still put stock in reviews."
Reported by Jodie Fleischer, produced by Rick Yarborough, and shot and edited by Steve Jones and Jeff Piper.