A brother and sister have reunited with a firefighter who helped save their lives nearly 60 years ago.
Linda and Michael Hart met a firefighter who rescued them from a burning house in Hyattsville, Maryland.
In August 1959, a 2-year old girl and her 3-year old brother were asleep in their home when a fire erupted. The family lived in the 7600 block of 25th Avenue.
Their mother, who had been doing laundry in the basement, ran outside in search of help.
An off-duty police officer was the first person to come to the rescue. He positioned a ladder against the home and used it to climb inside. He was able to locate Linda Hart and handing her off through a window to a waiting police officer.
"I remember smelling the smoke and diving under the covers," Linda Hart said Tuesday.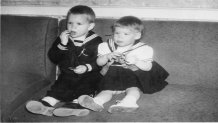 Firefighters from the Chillum-Adelphi fire station arrived with Sgt. Carl Hartman and Firefighter Edwin Stuart "Stu" Newman, Jr.
Local
Washington, D.C., Maryland and Virginia local news, events and information
The two firefighters climbed the same ladder and searched the home. Newman found little Michael Hart.
Newman took off his own breathing mask to help the toddler.
The two children were rushed to a hospital, where they were treated and released.
The Harts used Facebook to find their rescuers. They had an old newspaper clipping about the fire and found Newman's name in it.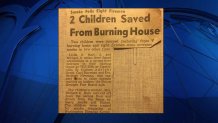 So, they asked if anyone knew him.
Mark Brady, chief spokesman for the Prince George's County fire department, saw the note.
"Everybody in the fire service for any amount of time knows Stu Newman, and I called him," he said.
Linda Hart said she was amazed to get to meet the man who changed her life.
"I was struck by the joy of being able to say thank you to someone who had a really critical piece in that web of people that support me all the time," the Unitarian Universalist minister said.
Michael Hart echoed the sentiment.
"While I didn't know your name, I knew I owed my life to somebody," he said.
"I hope we can be friends forever," he continued.