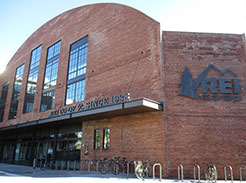 REI's Washington, D.C. flagship store opens Friday and the outdoor retailer plans on celebrating for three days.
REI plans to use Wunder Garten, a beer garden in NoMa, Storey Park and their new 51,000-square-foot space to host various instructional events, food vendors and live music Friday though Sunday.
Each morning a different band will perform before the distribution of door prizes for the first guests. REI says they'll give the first 500 shoppers each day a custom REI DC CamelBak water bottle with a promo card inside. Visitors will also find free breakfast and coffee.
Friday morning, hundreds of people lined up to get into the new store, located adjacent to the NoMa/Gallaudet Metro station.
The structure was once home to the historic Uline Arena, where President Dwight Eisenhower held an inaugural ball, where the Beatles played their first American concert and where Vietnam War protesters were temporarily housed, according to WTOP.
REI is featuring a lineup of artists such as Little Bacon Bear, DJ Smudge and the Dupont Brass Band performing at the new store.
You can catch more music at Storey Park. Between listening to DJ Biz Markie and the Ampersand Stringband, attendees can check out the beer garden, food trucks or even use the rock-climbing wall.
While the Wunder Garten will serve beer and s'mores over a campfire, its main attraction will be hour-long skills classes. You can learn anything from fixing a flat tire to smartphone photography.
REI also plans to donate a total of $100,000 to five outdoor nonprofit organizations, REI rep Matt Liddle said. Over the summer, their campaign, United Outside, brought more than 60,000 people together outside in D.C. At each event, participants each received one wooden token, which they could use to vote for either the Washington Area Bicyclists Association, Anacostia Watershed Society, C&O Canal Trust, The Outdoor Foundation or the Potomac Appalachian Trail Cub.
"At the end of this weekend, after all is said and done, we will look and see how people voted, and we will divide up the $100,000 between those five nonprofits proportionally," Liddle said.
For a full schedule of events, check out REI's website.