Investigators are still searching for answers after a gunman opened fire from the fifth floor of an apartment building in D.C.'s Van Ness neighborhood on Friday, injuring three adults and a child and sending students scrambling.
Two of the shooting victims were still in critical condition as of late afternoon Monday.
Chief of Police Robert Contee revealed new and disturbing details on the case at a news conference Monday afternoon.
The suspected shooter fired 200 rounds from a "sniper's nest" and had over 800 more, Contee said. He had "thousands of rounds of ammunition" in Fairfax County. He rented the D.C. apartment starting in January and was caught on surveillance footage a day earlier rolling a large suitcase into the building.
We're making it easier for you to find stories that matter with our new newsletter — The 4Front. Sign up here and get news that is important for you to your inbox.
The suspect set up a camera in a hallway outside his apartment so he could see officers as they approached, Contee said. Police said the shooter also recorded himself as he opened fire and made several social media posts before and during the shooting.
Any connection he had to the Edmund Burke School, where students hid for hours, is still unclear.
"We're trying to really understand why this happened," Contee said.
The supect attended Wheaton High School in Montgomery County, and spent a "brief period" in the U.S. Coast Guard in 2017.
Raymond Spencer, of Fairfax, Virginia, is the sole suspect, Contee said. The 23-year-old was found dead in the AVA Van Ness apartment from which he is believed to have opened fire. He took his life as officers entered the apartment, Contee said.
Contee and Mayor Muriel Bowser spoke about a number of recent violent crimes in the District and announced the Violent Crime Impact Team, a collaboration with federal agencies including the FBI, Secret Service, Drug Enforcement Administration and Bureau of Alcohol, Tobacco, Firearms and Explosives.
Contee told News4 earlier on Monday that local and federal investigators are still probing the suspected gunman's possible motive. They have "nothing approaching a motive at this point other than pure evil and hate," he said.
Officers found a "sniper-type setup" in the apartment, with a tripod, six guns and ammunition, Contee previously said.
"It just appears that this person was just shooting at anyone who was out there randomly," he said.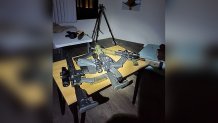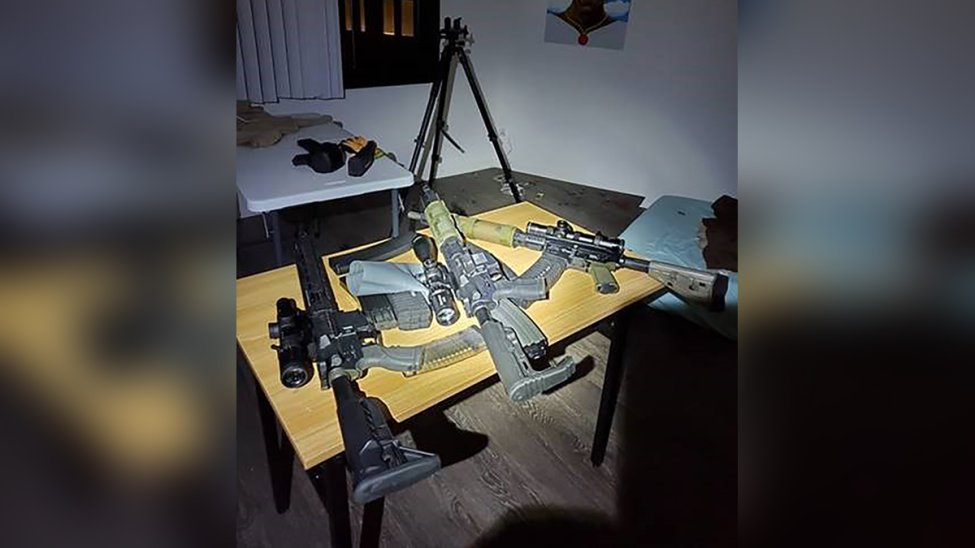 Police are still being notified of damage to cars and buildings, Contee said Monday morning.
The chief asked people who live in the area to make sure their neighbors are accounted for.
"We want to make sure that neighbors are checking on neighbors to make sure no errant round entered into someone's home or apartment that we are unaware of, that there's not someone in there that suffered a gunshot wound that we're unaware of," he said.
Some of the shooter's firearms were purchased legally, Contee said; some were "constructed."
Neighbors Describe Trauma After Shooting From Their Building
Outside the AVA Van Ness apartments, many things appeared to have returned to normal on Monday. Crime scene tape is down and shattered glass is gone. But residents said their lives are changed forever.
Raja Kiprono left his home directly below the suspect's apartment minutes before the shooting began. He said he's still shaken.
"Every time when I go to sleep, when I close my curtains, I see the same view the shooter saw, so it always runs in my mind, how he executed everything," Kiprono said.
Resident Josh Magness was home when the gunfire began and had to shelter in place. When police knocked on his door to help him evacuate the building, he wasn't sure it was safe to come out.
"Your worst mind is like, 'What if this is the shooter?'" he said.
Police and the local ANC are set to hold a community meeting at 6:30 p.m. Monday, outdoors at Connecticut Avenue and Veazey Terrace. "We want to hear from that community about what changes you want to see the city make," a notice about the meeting says.
Stay with NBC Washington for more details on this developing story.