The man suspected of shooting three adults and a child Friday afternoon in the Van Ness neighborhood of Northwest D.C. was found dead in an apartment building in the area.
Police identified 23-year-old Raymond Spencer of Fairfax, Virginia, as a person of interest about 7:30 p.m.
Sources close to the investigation say he was found dead in a bathroom at the AVA Van Ness apartment building. Chief of Police Robert Contee would not identify the suspect but said they are no longer looking for a person of interest. Police do not believe there are any other suspects.
Responding officers had determined the shots were fired from the fifth floor of the building.
"We believe the suspect took his own life as MPD officers were entering or breaching the apartment where the suspect was located," Contee said.
Spencer's name was found through social media posts about the shooting.
"This was very much a sniper-type setup with a tripod, and this person, obviously, his intent was to kill and hurt members of our community," Contee said.
Police recovered six firearms, including long guns, and multiple rounds of ammunition.
"It just appears that this person was just shooting at anyone who was out there randomly," Contee said.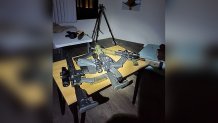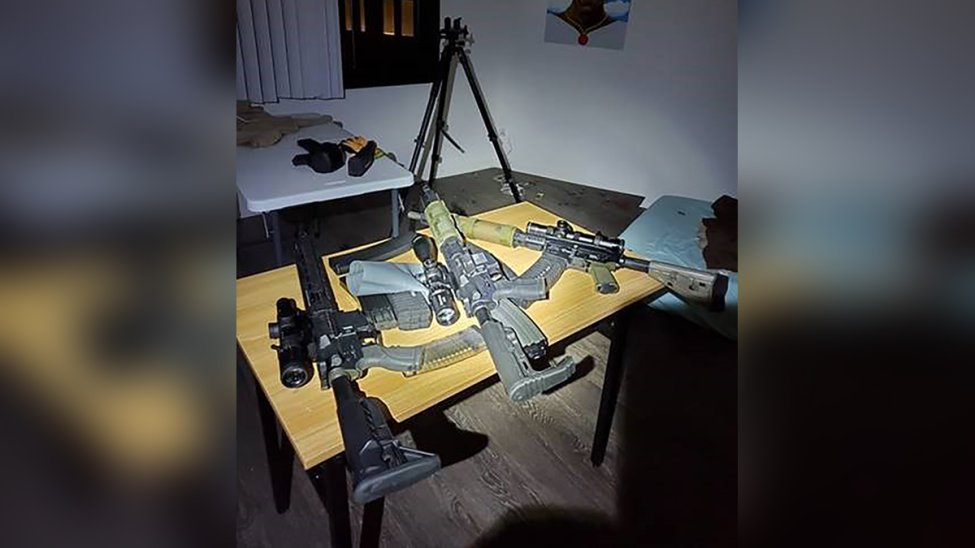 The shooting about 3:20 p.m. prompted a massive police response and prompted schools to lock down. Officers in tactical gear could be seen running in the area; others had their guns drawn as they evacuated residents of an apartment building on Van Ness Street NW.
Local
Washington, D.C., Maryland and Virginia local news, events and information
Authorities were interviewing several witnesses, they said about 5:40 p.m. Friday. Officers were seen escorting a man in handcuffs about an hour earlier, but an assistant police chief later said no one was in custody.
Several people who ran from the area due to the sound of gunshots were interviewed, Assistant Chief of Police Stuart Emerman said.
"We are interviewing several witnesses," he said. "As would naturally happen during an incident like this, several individuals ran from the area, so we did stop several individuals to conduct witness investigations with them."
The three victims were taken to hospitals, where they are being treated. The assistant chief said two adult victims, a retired D.C. policeman in his mid-50s and a woman in her mid-30s, were hospitalized in critical condition but were stable. A 12-year-old girl had a minor gunshot wound and also is stable at a hospital, police said. A woman in her mid-60s suffered a graze wound to her back and was treated at the scene.
Patricia Termini, the woman who was grazed by a bullet, said she was picking up a student at the Edmund Burke School when she heard a burst of gunfire and ducked for cover in her car.
"I was waiting in the alley, and all of a sudden there was a burst of what I thought were explosions," she said.
"And then the second burst came, and I laid down in my car, and I called the people whose kid I was picking up, and I said, 'There's some explosions or a bomb. I don't know if it's shootings or what,'" she said. "And at that point a bullet came from behind me and it grazed my shoulder, and I got up, and at that point I said to myself, 'I need to get out of here.'"
"I think it should be mentioned that, unfortunately I had to look into parents' eyes tonight who were terrified," Mayor Muriel Bowser said. "And they were terrified thinking about what might happen to their children. And we have experience this too much in our country. the epidemic of gun violence, the easy access to weapons has got to stop. People should not be scared of taking their children to school."
Residents of Apartment Building Evacuated by Armed Officers
As the tense situation unfolded, armed officers rushed to lead residents out of an apartment building on Van Ness Street. Some residents were running barefoot or in socks, video shows.
Officers appeared to be clearing residents in batches. Earlier, people walked; later groups were seen running.
Evacuated residents have been allowed to return home following the discovery of the suspect.
Initial Calls Reported an Active Shooter
The incident was centered in the 2900 block of Van Ness Street NW, police said, although they initially gave the location as the 4100 block of Connecticut Avenue NW, which is around the corner. Much of the activity seemed to be centered around the AVA apartment building on Van Ness Street off of Connecticut, with officers entering, exiting and staging outside.
A number of streets in the area were closed. Connecticut Avenue NW was closed from Porter to Albemarle streets.
The busy neighborhood is home to a dense mixture of apartment buildings, restaurants, businesses, office buildings and schools.
Initial calls for help, which came in Friday about 3:20 p.m., reported an active shooter, police dispatch calls revealed.
Both Metropolitan Police Department and Secret Service officers were seen responding to the area, as well as FBI agents. Helicopters were heard flying overhead.
Police advised people to avoid the area and shelter in place. There was a family reunification site at the Cleveland Park Library at 3310 Connecticut Avenue NW, police said.
A message sent from the Alert DC system warned people of an "active threat" and to "shelter in place if you are nearby."
The University of D.C.'s Van Ness campus was placed on lockdown, which has been lifted. Students and other members of the university community were advised to shelter in place.
'So Many Gunshots'; Nearby Students Take Cover
Witnesses said they heard several rounds of gunshots.
The mother of a student at the nearby Edmund Burke School, a private school for grades 6-12, told News4 her son said he heard gunshots and then students took cover.
"We are literally ducking and hiding," another father said as his child sheltered inside the school. He said he saw broken windows.
"This is the worst nightmare any parent can have," said the father of two students at the school.
The school was locked down for several hours. Police began to reunify students with their parents at about 7:30 p.m. Most families have been reunited.
No shooter was ever inside the school, police said.
A Howard University law student was driving in the area with a friend when they heard the shooting begin.
"We heard gunshots go off so close to us that we stopped the car," she said. "All the cars just stopped at a standstill. And then we all stopped; we didn't know what to do .... And so we kept driving a little bit and then another round went off. And they just kept going off."
"It was so many gunshots," she said.
Stay with NBC Washington for more details on this developing story.