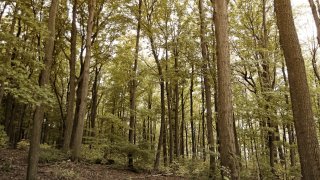 A 19-year-old woman accused of abandoning her newborn daughter in a wooded area in Glen Burnie was arrested Friday and charged with attempted murder and other offenses, Anne Arundel County police said.
Early on July 14, officers responded to a 911 call that reported the sound of a crying baby. They found an unclothed baby girl with her umbilical cord still attached, police said in a news release. The baby had minor injuries after being in contact with some bushes. She was taken to a hospital. On Friday, police said the baby is healthy.
When investigators identified the baby's mother, she was given medical treatment and access to crisis intervention, police said.
On Friday, police said 19-year-old Olivia Thompson of Glen Burnie was arrested and charged with first- and second-degree attempted murder, assault, child abuse, neglect of a minor, reckless endangerment and desertion of a minor child. Online court records state that Thompson is being held without bond, but they don't list an attorney.
In a news release, police said that Maryland's Safe Haven Law allows parents who are unable or unwilling to care for an infant to give up custody at a police station or hospital with no questions asked.
Copyright AP - Associated Press