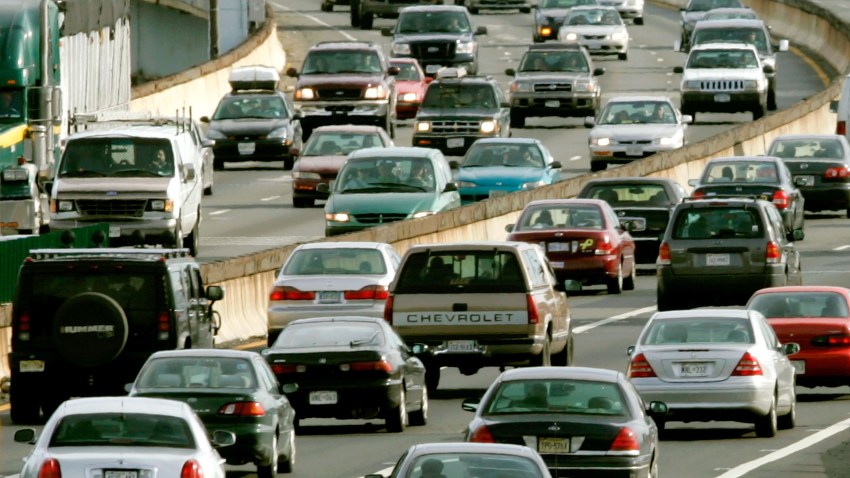 Traffic in the Washington region is a nightmare. Residents don't need another study ranking the D.C. metro area against other cities' torturous commutes to know that.

Now the National Capital Region Transportation Planning Board is ranking the worst bottlenecks -- just in our area.

The Top 10 includes six roads in Virginia, two in Maryland and two in D.C., the Washington Examiner reported.

The worst: I-395, with an average speed of 5 mph between 8:30 a.m. and 9:30 a.m.

The 2011 Aerial Congestion Survey also showed that congestion is much worse than it was in 2008.

The complete list:

1. Northbound I-395 (from Washington Boulevard to Jefferson Davis Highway)
2. (tie) Inner Loop I-495 (from Georgetown Pike to George Washington Memorial Parkway)
2. (tie) Southbound I-395/Southwest Freeway (from 4th Street to 12th Street)
4. Eastbound Interstate 66 (from Leesburg Pike to the Dulles Access Road)
5. (tie) Inner Loop I-495 (from MD-355/I-270 to MD-185/Connecticut Avenue)
5. (tie) Outer Loop I-495 (from Dulles Toll Road to Chain Bridge Road)
7. (tie) Outer Loop I-495 (from I-95 to New Hampshire Avenue)
7. (tie) Inner Loop I-495 (from Gallows Road to Arlington Boulevard)
9. (tie) Eastbound 66 (from Route 234 Bypass to Sudley Road)
9. (tie) Westbound 11th Street Bridge (from I-295 to Southeast Freeway)
Follow NBC Washington to get the latest news, events and entertainment anytime, anywhere: on air, online, and on Facebook // Twitter.