A man stripped naked and jumped onto a moving truck in freezing temperatures Tuesday near Washington Dulles International Airport, officials say and stunning video shows.
Shocked drivers stopped their cars to gawk at the man's rampage and record it on their cellphones, backing up traffic on Route 28 in Fairfax County, Virginia.
Jose Gonzalez Flores, 32, was involved in a hit-and-run and then assaulted another driver and ran into traffic, police said. He tried to smash the windows of passing cars and used a knife to stab at the roof of the truck he jumped onto, a witness told News4.
The driver of a tractor-trailer said Flores tried to rip him out of his vehicle and then punched out a window, raining glass onto his dog, a German shepherd-husky mix named Emma. The glass cut the dog's face.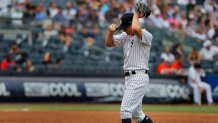 A woman recording the scene after the crash started to scream as she realized the man posed a threat.
"Get away from me! Oh my God! Oh my God!" Mahnaz Safi shrieked.
Local
Washington, D.C., Maryland and Virginia local news, events and information
Flores' rampage just ahead of the evening rush hour Tuesday began after a three-car crash on southbound Route 28 near Frying Pan Road, Fairfax County police said.
Truck driver Adam Allen said he saw a man punch another man near the crash scene. Amid strong winds and temperatures in the 20s, the agitated man started to strip, witnesses said.
"He had a tire in his hand and he had something that had blades. He kept cutting himself," Safi said.
Allen saw the man strip down and then lock eyes with him. Allen's dog, Emma, got uneasy.
"He looked at me, and she started barking. He hopped up on the passenger side, tried to open the door. When he couldn't get in, he punched a window and shattered it with his fist," Allen said.
He shouted "Hi-ya!" as if he were doing karate as he broke the window, Allen said.
The glass cut the dog's face, around her right eye. EMTs would later help her.
"When the EMTs were cleaning out her eye, they said she shut it just in time," Allen said.

Video shows the nude man hanging on the door of the tractor-trailer.
"Got up to 30 miles per hour before he finally let go," Allen said.
"It was like out of a movie almost," he continued.
Tariq Hussein saw the whole scene unfold after his dump truck was hit from behind by a blue pickup truck. He said the naked man lay down in the road and tried to damage multiple cars.
"The guy was actually stopping the cars. He was laying down. He started swinging, laying down naked and all that stuff, so people stopped. They don't want to run him down," Hussein said.
"They just stopped, and whoever stopped, he goes to them and tried to smash their window," the witness continued. "Then, he jumped onto this guy's pickup truck flatbed and he just tried [to stab it] with a knife."
Flores broke a window of the truck, police said.
Then, fully nude, he jumped off the truck and ran into a wooded area, Hussein said.
"He took a tire, a used tire, around his neck and ran into the woods," the witness said.
Fairfax County police were called to the scene about 3:30 p.m. Officers responded from Fairfax County and Loudoun County, as well as the Metropolitan Washington Airport Authority and the Loudoun County Sheriff's Office.
Flores, of Sterling, was found a short time later in a drainage ditch on Dulles airport property. He was arrested and then taken to a hospital with non-life-threatening injuries. No one else was hurt.
Initially, police could not identify him.
The car crash and the search for the man blocked traffic for nearly an hour.

Police said it was not immediately clear if Flores had been under the influence of drugs or alcohol, or if he had experienced a medical emergency.
After he is released from the hospital, police said he will be charged with indecent exposure, felony hit-and-run, throwing an object at a moving vehicle, destruction of property, assault and battery, disorderly conduct and marijuana possession.
Emma, the dog, is doing ok.
Police initially said, based on preliminary information, that a driver swerved around the naked man and caused a crash.