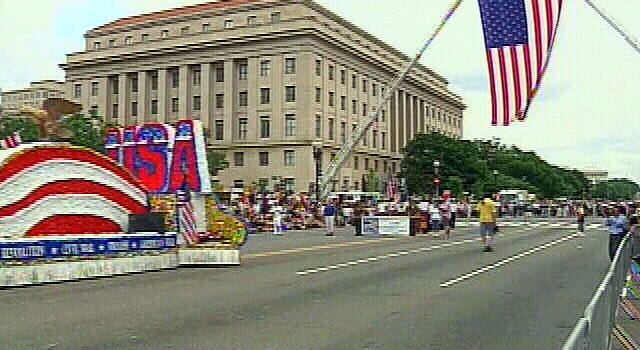 With so many sites honoring the sacrifices military members make, it can be difficult to decide just what to do on Memorial Day in Washington. The region's history makes for plenty of events, both fun and meaningful:
The National Memorial Day Parade will march for the ninth year on the National Mall, starting on Memorial Day at 2 p.m. from the intersection of Constitution Avenue and 7th Street and traveling west along Constitution to 17th Street. The parade, which includes military units and marching bands, honors veterans from American wars as far back as World War II. The event is free and open to the public. Nearby Metro stations include Smithsonian and Federal Triangle on the Blue/Orange Lines and Archives/Navy Memorial on the Green/Yellow Lines.
The Rolling Thunder Run has been a D.C. tradition for more than 25 years, after simple beginnings to recognize soldiers who had been left behind. Bikers from around the country rally to support veterans with events all weekend, including a "Ride for Freedom" starting from the Pentagon on Sunday at noon. On Memorial Day,, the motorcyclists will honor veterans at Arlington National Cemetery and the Vietnam Veterans Memorial.
Arlington National Cemetery will honor veterans with wreath-laying ceremonies throughout the weekend, including the National Memorial Day Observance at the Tomb of the Unknowns, which begins at 11 a.m. Monday. The event and parking are both free. At 4 p.m., a ceremony featuring the scattering of rose petals will be held at the Women's Memorial. More details about this weekend can be found on their website.
The National Memorial Day Concert will be hosted by entertainers Gary Sinise and Joe Mantegna and begins Sunday, May 26 at 8 p.m. on the West Lawn of the Capitol building. Performers include "The Voice" singer Chris Mann and Tony award winner Alfie Boe, as well as military bands and singers. In addition, the concert will be streamed live online.
Hometown Holidays Rockville will host their Memorial Day ceremony in the Rockville Town Square. The Rockville Concert Band and Rockville Chorus will perform followed by a 21-gun salute presentation by American Legion Post 86 at 9:30 a.m. The 69th Memorial Day Parade will kick off from Martins Lane and North Washington Street beginning at 10:30 a.m.
ViVa Vienna will hold a huge family-friendly community celebration this Memorial Day. Located at 245 Maple Ave W in Vienna, Va., guests can enjoy rides, music, crafts, food, and over 300 vendors Saturday through Monday. The best part -- admissions is free!
The Sunset Celebration at Mount Vernon invites you to sip wine while watching the sun set over George Washington's home. This rare event will give visitors a chance to take an evening tour of the mansion, enjoy 18th century music, and eat desserts available for purchase on the lawn. The event will be held this Saturday and Sunday from 6 to 8:30 p.m. Tickets are $18 for adults and $12 for children ages 6-11. Children five and under are free.