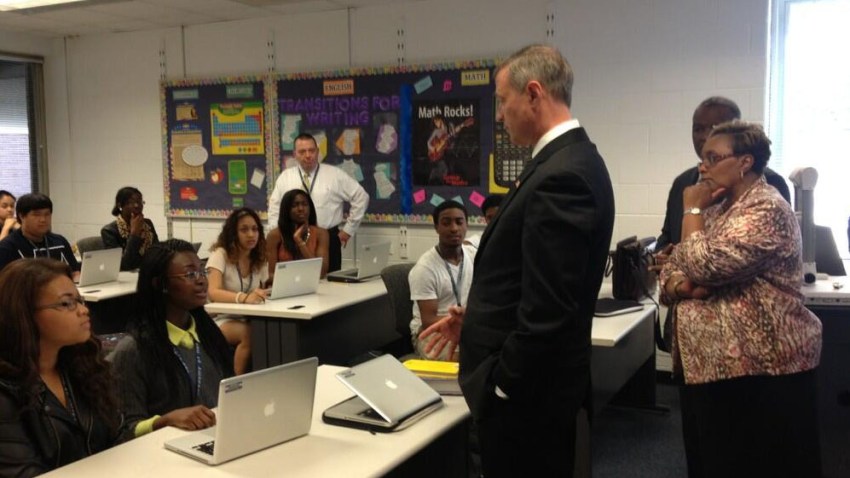 A Maryland program that helps high school students graduate with an associate's degree is being expanded.
Legislation funding the expansion of the Early College Innovation Fund passed in Gov. Martin O'Malley's 2013 legislative session.
The proposed partnerships between Maryland public school systems and higher education institutions would be modeled after the Academy of Health Sciences at Prince George's Community College, a middle college high school.
The school, which is the result of a partnership between Prince George's County Public Schools and Prince George's Community College, is Maryland's most successful early college high school. After four years, students graduate with both a high school diploma and an associate's degree in health, science, technology, science or math. Upon completion, graduates can enroll in one of Prince George's Community College's Health Sciences Clinical programs or continue their studies at a four-year college or university.
O'Malley toured the academy Wednesday, Prince George's County Bureau Chief Tracee Wilkins reported.
"We have to do a better job of maximizing our resources and giving our kids a running shot at getting to college or getting that two-year degree," O'Malley said.
Many of the students at the academy are considered at risk and likely would not have the opportunity to attend college had they stayed in a mainstream high school.
"They are a great group of students," Prince George's Community College President Dr. Charlene Dukes said. "They're eager. They're passionate about their coursework and what their career goals are. We're just happy to be a part of it."
School systems hoping to form similar partnerships would apply for competitive grants.
The state hopes through initiatives like this 55 percent of Maryland residents, between the ages of 25 to 64, will at least hold an associate's degrees by 2025.