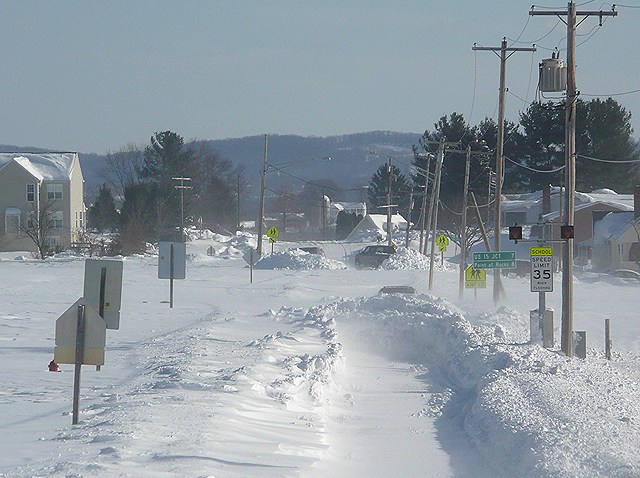 Non-essential vehicles have been prohibited from Frederick County, Md., roadways while a state of emergency is in effect.
Rescue workers are digging through 6-to-8-foot snowdrifts to reach dozens of vehicles stranded overnight on state roads in the area, state officials said. Several state roads were closed Wednesday night due to snow drifts.
Teams on foot have spoken with virtually all the stranded drivers and none appears to be in physical distress, Maryland State Police spokesman Greg Shipley said. Most of the stranded, including a family with children, chose to stay in their vehicles overnight rather than go to a nearby shelter in southern Frederick County or nearby fire stations.
State police are assessing the situation by helicopter, Shipley said.
The biggest problem is getting tow trucks to the scene to remove tractor-trailers that are blocking U.S. 340 on the 15-mile stretch between Frederick and the West Virginia state line and Route 15 near Thurmont.
"We have had staff working overnight, monitoring cell phone contact with folks, checking on their welfare," said Tom Owens, director of Frederick County Emergency Services.
As of 11 a.m. Thursday, Route 15 north of Frederick at Willow Road and U.S. 340 west of Intestate 70 were closed. I-70 at Route 40A was closed due to icing.
City of Brunswick plow crews are working on 12-hour shifts, as all access roads to the city are closed. According to City Administrator David Dunn, diesel fuel and salt and cinder products for the plows are in low supply, and deliveries are impossible because of the road closures, so the city is buying fuel from local gas stations.
The City of Frederick planned to lift the state of emergency at 8 p.m. Thursday, but the snow emergency will remain in effect.

Copyright AP - Associated Press