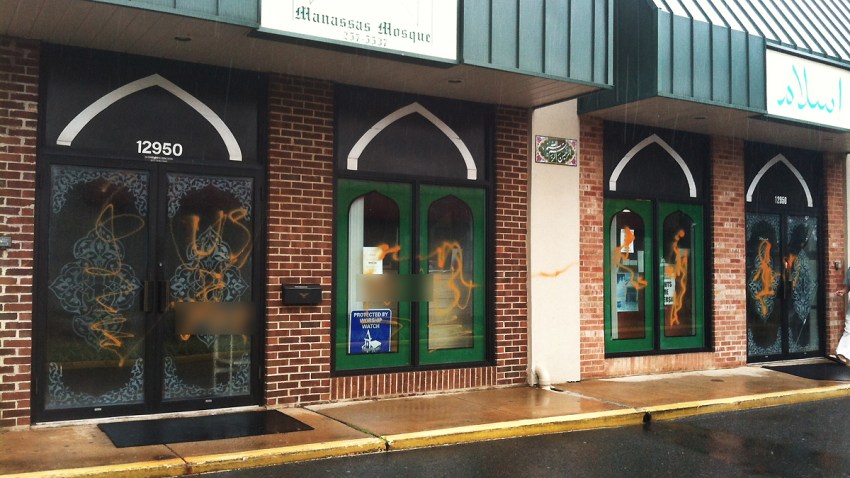 A Manassas, Virginia mosque was vandalized early Tuesday morning, and a prominent Muslim civil rights group is calling on authorities to investigate the crime as having a possible bias motive.
Vandals spray-painted eight windows and a door of the storefront mosque, marking them with obscenities and orange scribbles, and kicked in a glass door.
"It is, to be honest with you, it's unpleasant. Why is... why people are so ignorant?" said Imam Abu Nahidian of the Manassas Mosque.
A security guard found the damage early Tuesday morning. Prince William County Police said they believe it occurred between 11:30 p.m. Monday and 4:45 a.m. Tuesday.
Police said there are no suspects yet, but they are investigating.
Of the vandals, Nahidian said, "I wish they knew that we have no hate toward them. What is wrong with them that they have hate for us? There is no hate in Islam for anybody."
The vandals hit every window and door on the exterior of the mosque, even covering over signs calling for peace.
"I pray for them," Nahidian said. "Guide them and make them to be understanding that we don't hate you; why do you hate us?"
This month marks 20 years since the Manassas Mosque opened. Each Friday, about 200 faithful visit to pray, including 15-year-old Khadeeja Attai.
Attai has been attending the mosque for as long as she can remember.
"It hurts; it hurts," she said of the vandalism. "Because when you see that, it's like vandalizing your own home."
The Council on American-Islamic Relations (CAIR) is asking the FBI and local law enforcement agencies to consider a bias motive in the crime, said Ibrahim Hooper, communications director for the CAIR National.
"Often these kinds of these are investigated as teenagers or something, but when it's a house of worship, we ask that [law enforcement agencies] keep a possible bias motive in mind," Hooper said. "With all that that's going on in the world, you have to at least consider the possibility of some kind of bias motive."
Prince William County Police released a statement that reads in part:
At this time, it is not evident that the vandalism was a hate crime; however, any vandalism reported at a religious institution is carefully investigated to determine the criminal intent of the suspect(s).

Nahidian said he doesn't want finger-pointing, especially among other religions, or within Islam.
"I'm afraid that somebody is going to say that it was that group versus this group," he said.
Instead, he said he wants the vandals and anyone else harboring hateful feelings to think, "I might be different from you, but almighty God is feeding you the same way he feeds me."
Anyone with information on the case is asked to call Crime Solvers at 703-670-3700 or 866-411-TIPS. Callers can remain anonymous.