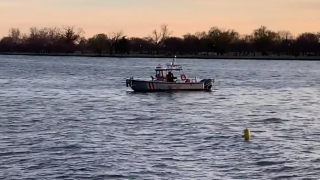 A man has died after jumping into the Washington Channel Monday in Southwest D.C., police said. 
Paramedics responded at around 6:15 p.m. to a report of a person under the influence at 4th and N streets SW, D.C. Fire and EMS said.
A spokesperson for the department said that when first responders arrived, the man was acting erratically and they made a distress call.
While attempting to assist the man, he ran to a pier in the 500 block of Water Street SW and jumped into the water, the spokesperson said.
The fire department worked with D.C. police to rescue the man and he was taken to a hospital with life-threatening injuries.
He later died, police said. His name and more information about his death were not provided.
This is a developing story. Refresh for updates.