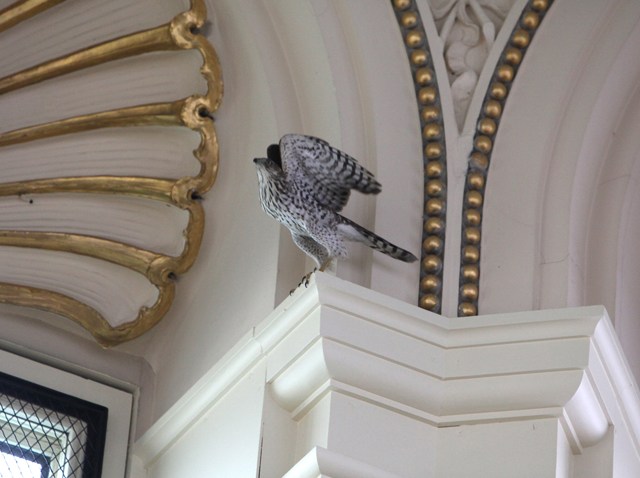 The hawk that has made itself at home inside the Library of Congress is proving to be more elusive than initially thought.
Over the weekend the hawk was able to outsmart her captors, who had set a trap. She swooped in and took just enough of the bait late Sunday afternoon and was able to avoid capture.
Because of the snack, the hawk won't need to eat again until Tuesday, so that's when the trap will be baited again.
And for the record, the hawk -- who was first noticed Wednesday -- has not been too keen on live bait, but seems to enjoy a meal of frozen quail, instead.
But the hawk hunters aren't just relying on bait alone. As a secondary measure, they also pulled a mesh tightly across the opening to the dome (which they call the "lantern") so that she cannot descend into the Main Reading Room, and this would also catch her in the event that she fell.
Members of the Washington Humane Society are helping in the capture, and they said they are OK with the process/procedures being used for the capture. They do not perceive the hawk is in any imminent danger from stress.
Of course, one question remains: what to call our fine feathered friend at the LOC? Staffers have come up with a few options, including "Shirley" (as in "Shirley you can't be serious" that there's a hawk in the LOC) and "Sadie Hawkins." Leave your own name suggestions in the comments below.
And you can follow along with the the hawk's trials and tribulations on the Library of Congress blog.