A grand jury indicted suspected white nationalist Jeffrey Clark of Washington, D.C., on federal firearms charges.
Prosecutors Friday will argue a judge should order Clark held pending trial.
In a memo to the court, the U.S. attorney for D.C. said investigators found several items in Clark's home after his arrest, including: Body armor, helmets, hollow-point ammunition, a Nazi flag and a drawing of an individual pointing a rifle at a male figure wearing a yarmulke.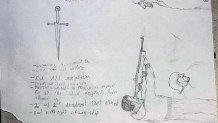 In their motion requesting Clark be ordered held in custody, prosecutors said Clark discussed the recent shooting spree at the Tree of Life Synagogue in Pittsburgh during an interview with agents. Agents asked Clark about the suspected gunman Robert Bowers. Federal prosecutors said Clark and Bowers were connected on a social media platform.
According to the court filing, Clark said, "I know why he did it, or I know why he claimed he did it. I saw the post and everything. He was upset with what, what he sees as Jewish groups destroying America based on what he saw from that caravan, the migrant caravan that was going on, and he decided he wanted to retaliate."
Clark is scheduled to appear Friday afternoon for a detention hearing at D.C. federal court.
According to court filings, federal agents investigated Clark and his brother in early November after receiving a tip the two had been heavily involved in the white nationalist movement.
In their court filings, prosecutors said Clark and Bowers were connected on GAB, a social media platform. Prosecutors said agents asked Clark if he had any communications with Bowers. In their court filings, prosecutors said Bowers responded, "May or may not have. I don't know, honestly. I recognized the name and when I first heard about it, I saw the post and recognized the picture. He may have followed me."
In their filings with the court, prosecutors said, "Clark stated that he and his younger brother Edward started to get into firearms following the 2016 election because they believed there was going to be a civil war."
Local
Washington, D.C., Maryland and Virginia local news, events and information
According to court filings, Clark's brother committed suicide in D.C. on the same day of the Tree of Life synagogue massacre.
Body Armor, Ammo, Nazi Flag Found in DC Home of Suspected White Nationalist'
Prosecutors included images of items seized from Clark.
Clark's relatives and defense attorney declined to comment.