What to Know
Free tickets to Trump's swearing-in ceremony are available by calling your U.S. senators and member of the U.S. House of Representatives.
There's no federal law barring the sale of the tickets Congress gives for free, but it violates the spirit of the event, an organizer said.
Tickets are advertised online for $250 to $14,900 each.
Anyone can go watch Donald Trump be sworn in as president on the National Mall, but a ticket is needed in order to get within about a half-mile of the action.
Nearly 250,000 free tickets for seats and standing room were issued Jan. 5 by the Joint Congressional Committee on Inaugural Ceremonies (JCCIC).
The tickets are color-coded, and ticket holders are required to enter the Capitol grounds through the entry point designated for their color-coded section.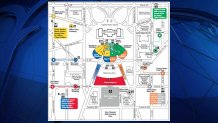 Go here to see a larger version of this map.
The JCCIC will release tickets to U.S. House members on Jan. 9 and to U.S. senators on Jan. 10. Trump also will receive tickets.
Local
Washington, D.C., Maryland and Virginia local news, events and information
Every person headed to a ticketed area needs a ticket, children included.
How Do I Get a Ticket to Trump's Inauguration?
The recommended way to get a ticket to the inaugural ceremony is to contact your senators and U.S. House member.
Many members of Congress are accepting ticket requests online from their constituents.
The office of D.C. Del. Eleanor Holmes Norton has an online request form. Tickets will be issued through a lottery. The office had received about 1,400 requests as of Jan. 6, a spokesman said.
The office of Virginia Sen. Tim Kaine, who ran for vice president on the Democratic ticket, also has an online request form and a lottery process.
The office of new Maryland Sen. Chris Van Hollen is receiving ticket requests by phone. They are recommending that Maryland residents, to increase their chances of getting a ticket, reach out to their House member, since members each represent fewer people.
The offices of Maryland Sen. Ben Cardin and Virginia Sen. Mark Warner already had stopped accepting ticket requests as of Jan. 6.
Not sure who represents you in Congress? Go here to find your senators and go here to find your House member.
JCCIC would not discuss the number of tickets Trump and each member of Congress will receive.
Can I Buy a Ticket to Trump's Inauguration?
Inauguration tickets have popped up for sale on Craigslist and GreatSeats.com, but JCCIC says the sales violate the spirit of the event.
"Tickets to view the swearing-in of our next president are meant to be free, and it should remain that way," spokeswoman Laura Condeluci said in an email.
JCCIC is working with Craigslist, eBay and StubHub to prevent the sale of inauguration tickets, as the committee has done previously.
There is no federal law governing the sale of inaugural tickets, but buying or selling them may violate local and state laws on ticket scalping.
Tickets were advertised on GreatSeats.com on Jan. 6 for $449 to $14,900 each, and on Craigslist for $250 to $1,500 each. No inauguration tickets appeared on eBay or StubHub.
What If I Don't Have a Ticket?
If you cannot get a ticket, you can still watch Trump get sworn-in. Space on the National Mall west of 4th Street NW will be open to spectators. The presidential inaugural committee is expected to set up large television screens.