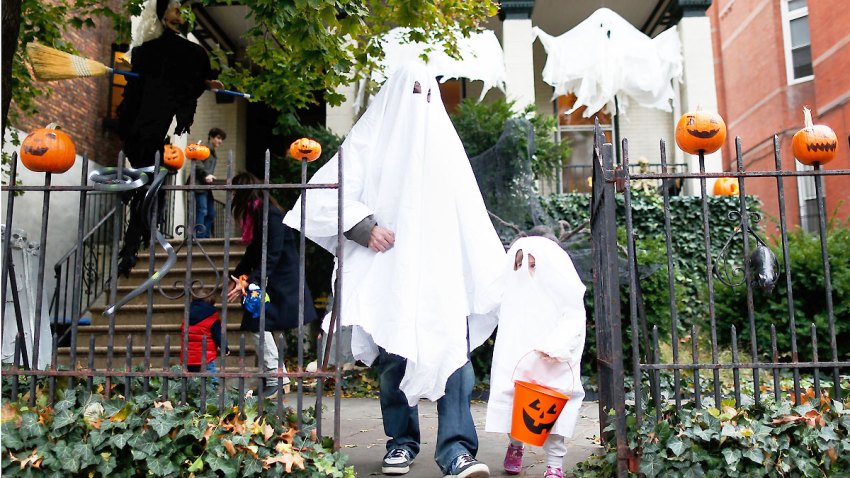 Where's the Best Trick-or-Treating?

Real estate website Zillow ranked D.C. as 8th-best trick-or-treat city in 2013, up two spots from last year. The five "best" neighborhoods in the city for candy yields are American University Park, Chevy Chase, Georgetown, Woodley Park and Friendship Heights. The website based its rankings on home values, crime data and the walk score for each neighborhood.


Extra DUI Checkpoints; Free Cab Rides Available

Unfortunately, Halloween is a popular night for driving while under the influence of alcohol, authorities say. Police will be staffing extra DUI checkpoints around Fairfax County and other areas in the region. Remember, if you're drinking, take public transportation, appoint a designated driver, or take a cab -- free cab rides are available from 10 p.m. Thursday through 4 a.m. Nov. 1. A fun night out isn't worth someone's life.


In Search of Haunted Houses?

There's a haunted house in pretty much any direction (whether you're looking in D.C., Maryland or Virginia), but if you want ghost tours, be aware that most are centered downtown. Find lists of both haunted houses and ghost tours here.


So... Where Are the Parties?

While many big Halloween celebrations around the region took place last weekend, there's still plenty of fun to be had, including fun in Georgetown and a swanky Halloween social at the W Hotel's rooftop POV Lounge. Find our picks for bar crawls and parties here.


Sex Offenders Under Extra Scrutiny:

Local authorities are planning to monitor sex offenders while children are out trick-or-treating. "Operation Lights Out" requires registered sex offenders under probation or parole supervision to either stay at home with their lights out and not answer the door, or attend a meeting at a secure location while kids are trick-or-treating. To ensure compliance, probation officers and state and local police will make random home visits Halloween night.


That Guy in the "Costume" May Be a Real Cop:

PSA time: Not everyone wearing a police uniform is in costume. An Illinois man was arrested last weekend after punching an officer he thought was just wearing a costume. (And actually, it's probably better to just never punch anybody.)


Costumes Could Be Flammable:

Remember to keep kids away from open flames and candles in jack-o-lanterns. News4 Consumer Reporter Liz Crenshaw took a lighter to some Halloween costumes to test out their flammability. See what happened here.


Last-Minute Costume Ideas:

So you procrastinated. Don't sweat it -- that makes you like roughly 85 percent of the other people you'll see out tonight. Slam something together in the realm of superhero or Internet meme... or D.C. athlete... or ridiculous-celebrity-of-the-moment. You're welcome, world.


Some D.C. Parking Restrictions for Halloween Festivities

Most of the "scariest" closures are centered around Georgetown, where revelers generally crowd the streets. Parking will be prohibited from 4 p.m. Thursday to 6 a.m. Friday along K Street NW from 30th Street to Wisconsin Avenue NW; Water Street NW from 32nd Street west to the mouth of the Capital Crescent Trail; the 1000–1300 blocks of Wisconsin Avenue NW; M Street NW from 25th Street to the Key Bridge, and the 1100 block of 26th Street NW. And it's probably easier to just take a bus or walk there, anyway. In addition, some downtown streets are closed too, although those closures aren't Halloween-related.


What About Metro?

Yes, Halloween's fun, but it's not an official holiday -- or a weekend. Metro will close at the regular time Thursday night, but there's one exception: The 7th & F entrance of Gallery Place and the F Street entrance of Judiciary Square will stay open late to get fans home from the Drake concert at the Verizon Center. At those stations, riders should enter the system no later than 12:45 a.m. All other Metro entrances will close at their regular times, but exits will remain open an extra hour. See details here.