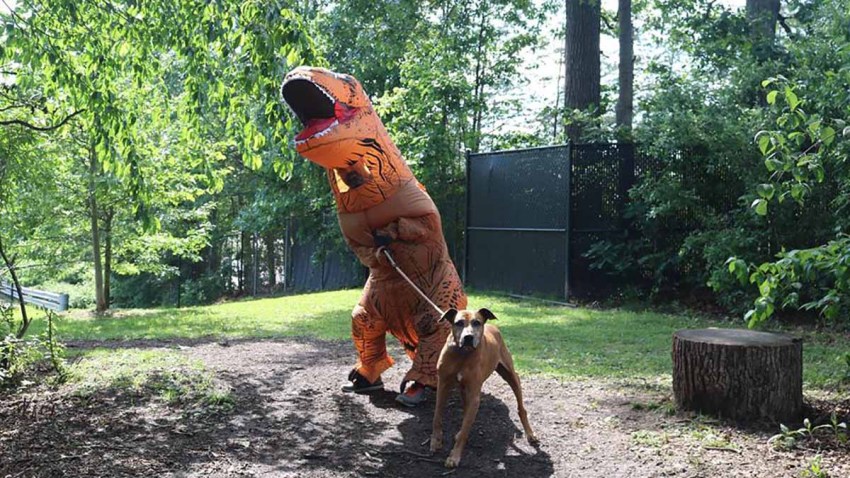 A local animal shelter wants to give people a fur-ocious adoption experience.
The Fairfax County Animal Shelter will be hosting a "Furassic World" adoption event from Tuesday, June 19 at noon through Saturday, June 23 at 5 p.m.
Adopters will crack open a paper mache dinosaur egg for a special discount off their adoption fee. The eggs will contain discounts ranging from 25 percent to 100 percent off, the shelter's daily operations manager Cynthia Sbrocco said.
The shelter usually hosts special events this time of year when it has too many cats and dogs.
"We try to come up with different themes," Sbrocco said. "Jurassic World is coming out and we had a creative team, volunteers and professional photographers come up with this idea."
Volunteers have been hard at work transforming the shelter into a jungle for the event, weaving branches to create a dinosaur nest and painting a toy Jeep to resemble those in the film, Sbrocco said.
Photos are permitted at the event so guests and their pets can take photos with the decorated scenery.
This isn't the only time the shelter has gone all out to make adoptions extra special. Volunteers previously dressed up as elves in the winter to deliver pets to adopters on Christmas, Sbrocco said.
She encourages people considering adopting a pet to check out the shelter and see what it's all about.
"(People should come to the event) to experience what we're doing, see how the shelter looks, and also find a new family member," Sbrocco said.
Universal's Jurassic World is scheduled to release on June 22.