A flash flood warning has expired for northwestern D.C., Arlington and parts of Fairfax, Montgomery and Prince George's counties Tuesday afternoon.
The warning came as heavy rain pounded the D.C. area.
Video shot at Connecticut and Nebraska avenues NW showed serious flooding over the roadway. The water completely covered the sidewalk and nearly reached to the top of some cars' tires.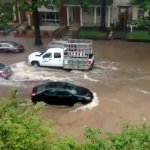 Radar showed a heavy thunderstorm dumped more than 1 inch of rain in this area.
Stay with Storm Team4 for the latest conditions all afternoon.