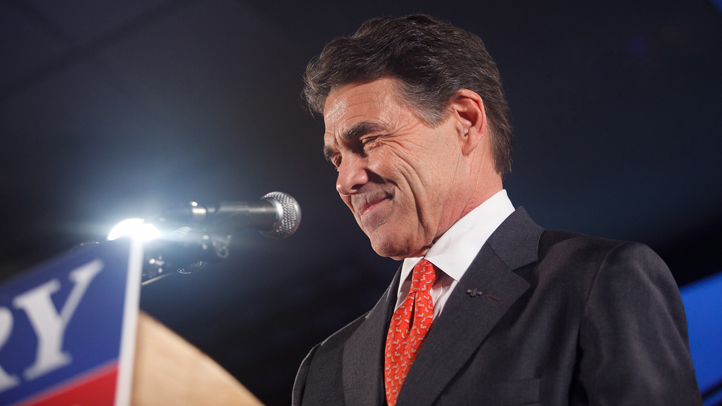 It could be a big day for presidential hopeful Rick Perry and the other GOP contenders who didn't make it onto the Virginia Republican primary ballot.

Friday morning, Richmond U.S. District Court Judge John Gibney will hear arguments from the four candidates seeking a court order to be added to the ballot.

Lawyers for Perry maintain Virginia's ballot requirements are unconstitutional because only Virginia residents can gather signatures. Fellow Republicans Newt Gingrich, Rick Santorum and Jon Huntsman were allowed to join the lawsuit. Only Mitt Romney and Ron Paul collected the 10,000 validated signatures required to appear on the Virginia ballot.

Earlier this week Judge Gibney ordered the State Board of Elections to delay mailing absentee ballots until after his ruling, which is expected to come after today's hearing.

The hearing starts at 10 a.m.

- Maryland Gov. Martin O'Malley got this year's legislative session off to a chippy start by stating his interest in raising the state's sales tax.

Fellow Democrat and senate president Mike Miller wasted no time throwing dirt on the idea.

Speaking before the Maryland Economic Development Association in Annapolis, Miller said talk about a sales tax hike was only talk.

The Daily Record reports his message to business leaders: "It's not happening folks."

- The area's big three will powwow today in D.C. to talk transportation.

Gov. Bob McDonnell, Gov. Martin O'Malley, and D.C. Mayor Vincent Gray will sit down with Metro's General Manager Richard Sarles to talk about "safety and governance."

Another hot topic sure to be discussed in the closed-door meeting: Sarles' proposed budget plan, introduced to the Metro board on Thursday. He's asking riders for higher fares, but he's also looking for an additional $53 million from Maryland, Virginia, and D.C.

The mayor and the governors promise a press conference following the meeting this afternoon.