The K9 officer who served as the "faithful partner" of a Prince George's County Police officer has passed away, the police department announced.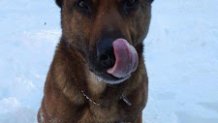 Tron was only 7 years old. After he became ill on Thursday evening, Tron was rushed to the hospital, where he was diagnosed with an aggressive form of blood cancer that had spread to several organs.
Tron, whose partner was Sergeant Nick Cicale, had served as a patrol and drug detection dog since September 2010. "Throughout his career, Tron successfully located several dangerous suspects along with locating many pieces of evidence," Prince George's County Police said in a statement.
Tron also earned four gold medals during the 2015 World Police and Fire Games, the department said.