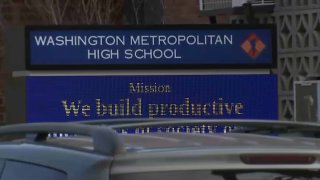 An 11th-hour fight to save Washington Metropolitan High School has failed, and now officials say the Northwest D.C. school will close at the end of the year.
Washington Metropolitan High School aimed to specifically address high-need students, but low enrollment, low attendance and low test scores put the school on the chopping block
D.C. Council Member Robert White pushed to keep the school open for another two years. The emergency legislation needed eight favorable votes on Tuesday but fell one short. Five councilmembers voted against the bill.
"I knew that overturning the Mayor and Chancellor's decision to close Washington Met would be an uphill battle. Nevertheless, I also understood that these students, who did such an amazing job of fighting for themselves, deserved to have their elected officials advocate for them as well," Councilman White said. "I also knew that Washington Met had been stripped of the resources it needed to succeed. I remain incredibly concerned about the future of students who have unique challenges in traditional learning environments."
Dr. Lewis Ferebee, the chancellor of D.C. Public Schools, said it was a tough decision but ultimately the city could not keep funneling resources to a smaller school. Advocates for the school said it needed to be fully funded to adequately serve students.
Mayor Muriel Bowser sent a letter to council members before the vote detailing her decision to close the school after meeting with more than 200 community stakeholders last fall.
Local
Washington, D.C., Maryland and Virginia local news, events and information
"What was confirmed was what we have seen — lagging scholastic performance, unacceptably low in-seat attendance, and student dissatisfaction with program offerings largely due to a school facility made for elementary students that cannot possibly bring success for the unique needs of the Washington Metropolitan School community. For these reasons, a difficult decision was made to close the Washington Metropolitan Opportunity Academy," the letter said.
Correction (Feb. 5, 2020): This story has been updated to accurately reflect which councilmember promoted the emergency legislation and the number of votes against the measure.