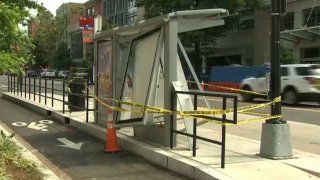 An intoxicated driver crashed into a bus stop near Logan Circle and killed a pedestrian early Sunday, police say. The driver was arrested on a murder charge.
Information on the identity of the pedestrian, believed to be a man, was not immediately released.
Police tape surrounded the bus stop later Sunday. Glass was shattered and metal parts were bent.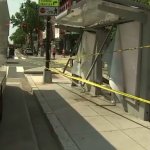 D.C. police and EMS were dispatched to 14th and P streets NW after 3 a.m. They found that a driver crashed a Honda Civic into part of a bus stop and hit someone.
The pedestrian was taken to a hospital with critical injuries and pronounced dead a short time later.
The driver, 29 year-old Gerald Lewis of Northeast D.C., was arrested and charged with murder II, driving under the influence and reckless driving.
No other injuries were reported. It's unclear if anyone else was in the car.
The bus stop is situated on a median that separates a vehicle lane from a bike lane.
D.C. Pride festivities were held in the area hours earlier.
Stay with NBC Washington for more details on this developing story.