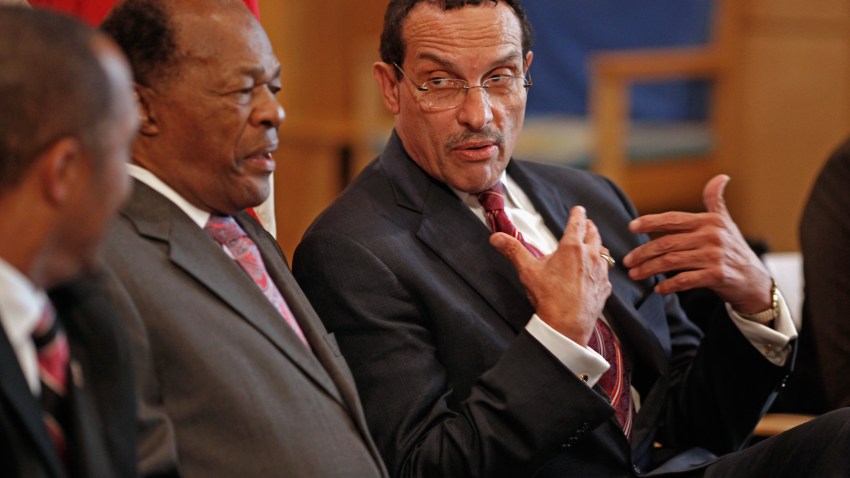 "Hello, District of Columbia, and welcome to the most transparent administration ever!" So says @MayorGray on Twitter, where he promises "deliberative tweets only."
No, it's not really Mayor Vincent Gray, but a so-far-unidentified imposter in the tradition of @FentyDC. Though the fake Fenty had been silent since Election Night 2010 ("So what's up? Oh."), he also made a return to Twitter on Thursday, writing, "To all my 2010 Snowpocolypse critics in NYC. Ain't so easy, is it?"
The fake Gray also tweeted about the snow yesterday, threatening to fine response critic Jake Tapper for not shoveling his sidewalk, and telling Newark's Cory Booker, "I just had my security team shovel my sidewalk. Booyah!"
The real Gray met with House Speaker John Boehner yesterday, for a get-to-know-you session that was closed to reporters. The Washington Examiner says, "There's a good chance they talked about the D.C. school voucher bill Boehner introduced to Congress on Wednesday and D.C. statehood probably came up, too."
Elsewhere in the DMV:
* The Washington Post's Mike DeBonis interviews Rep. Trey Gowdy, the new chairman of the House Oversight subcommittee responsible for District affairs. The South Carolina Republican, who has been in Congress for less than a month, "inherits unofficial titles -- 'overseer,' 'overlord,' 'shadow mayor' -- that his predecessors might well have earned. But he said those are words he is not comfortable with." Gowdy said, "I'm going to provide oversight. I'll do it fairly, I'll do it completely, but I'm not interested in being the mayor of the District of Columbia or the overlord or the overseer or whatever else they want to call it."
Del. Eleanor Holmes Norton told DeBonis she is "impressed" with Gowdy's approach so far, but added, "I don't have any illusions." The new GOP majority has already targeted local D.C. policy on abortion, education, and same-sex marriage, and stripped Norton of her limited floor vote. And when asked about Gray's recent assertion that Republicans "who say that the federal government should not inject itself into the affairs of state and local governments" should follow that line on D.C., Gowdy responded, "I understand his point. It might be a little more complicated than that."
* Richard Sarles became the permanent CEO/general manager of WMATA Thursday, and immediately confronted an ongoing issue: Metro's controversial bag search policy. At the Metro board meeting, Greater Greater Washington reports, "numerous public witnesses" spoke out against the searches, "and the Riders' Advisory Council presented its resolution asking the Board to halt it amid concerns about its effectiveness, its impact on civil liberties, other potential use of police resources, and the lack of discussion at the Board before launching the program."
Ward 6 D.C. Councilmember Tommy Wells, a new member of the board, criticized the searches. The Examiner reports Virginia board member Jeff McKay "stood behind the policy, saying he wasn't going to question the decision of law enforcement officials." Ward 1's Jim Graham, who held a board seat for years before being forced to give it to Wells, was spotted in the audience.
In related news, We Love D.C. noticed that "without warning, the @metroopensdoors account shifted from being a bot that broadcast service disruptions to live-tweeting the Metro board proceedings. After months of complaining that Metro's only Twitter presences weren't actually staffed by humans, this is almost news in itself. No telling yet whether there's more to come from @metroopensdoors."
* A fundraiser was held Thursday evening to boost Ward 2 Councilmember Jack Evans's constituent services fund, which is "used to help needy constituents pay bills and address community expenses," the Georgetown Dish reports. Evans "saluted attendees for coming despite the weather." He told the small crowd, "You are the diehards, braving the weather to come."
* Rep. Jim Moran told the U.S. government-sponsored Arab news network al-Hurra that Republicans did well in last fall's elections because many Americans do not want a black president. "The Civil War happened because the Southern states, particularly the slaveholding states, didn't want to see a president who was opposed to slavery," Moran said. "In this case a lot of people in this country, I believe, don't want to be governed by an African American, particularly one who is inclusive, who is liberal, who wants to spend money on everyone and who wants to reach out to include everyone in our society."
* Just four U.S. senators turned up for the first meeting of the Senate Tea Party Caucus, but one would-be senator, Virginia's Jamie Radtke, was also there. According to the Examiner, Radtke told a meeting of the group, "Individual Americans, uncertain about their jobs, are wisely trying to reduce their debt and get their own houses back in order. But, collectively, Washington can't see this simple wisdom."
* The Post reports a Virginia House subcommittee defeated a proposal "to ban firearms from the Virginia Capitol and nearby legislative offices, arguing that law-abiding gun owners should be able to enjoy the same rights there as anywhere else."
* The Examiner reports that the Maryland Court of Appeals ruled Montgomery County Circuit Court Judge Ronald Rubin "incorrectly threw out speed-camera tickets given to four police officers," ordering the "on-duty cops to pay the $40 fine like other Marylanders." None of the officers was responding to an emergency.
Follow P.J. Orvetti on Twitter at @PJOinDC