It took the News4 I-Team six years to find Rufin Mandzandza. When our cameras found him, he didn't like it, telling us to "Stop following me."
He's been charged with more than a dozen of the most serious driving violations but has never gone to jail.
And the News 4 I-Team found he's not alone.
In 2008, we filed a Freedom of Information Act request with the U.S. Department of State and spent six years fighting to get a list never before released to the public showing hundreds of diplomats pulled over for our most serious driving offenses.
The records show one-third were caught drinking and driving, including a Russian first secretary charged with DWI and trying to elude police in Chevy Chase. Also on the list? A defense attaché for Yemen whose Mercedes was involved in a hit-and-run in Great Falls. He'd been pulled over three years earlier for reckless driving on Gallows Road.
Most on the list were pulled over for reckless driving. The son of the former Cameroon ambassador was pulled over for going 93 mph in a 55 mph zone in Chantilly. Records show a first secretary of Jordan was clocked going 100 mph in Fairfax. One year later, police charged him with DWI while driving the same Mercedes in Rockville.
Local
Washington, D.C., Maryland and Virginia local news, events and information
The I-Team took the documents to Tom Blanton at the National Security Archive, who quickly noticed they had been declassified. He said, "All it takes is some bureaucrat to think, 'Oh, this might be sensitive, this might be embarrassing,' and they can put a classification stamp on it."
Blanton has spent his career fighting and winning access to politically sensitive documents on topics like Iran Contra, CIA human experiments and the White House's emails. But he told us, "I was totally surprised at the number of violations, the sense of immunity, impunity, that some of these diplomats - repeat offenders!"
But our records aren't complete. Some were withheld for "national security" reasons.
"It's supposed to protect our homeland security, that exemption," Blanton said. "Instead, it's covering up for some diplomats."
After tracking down the individual tickets, the I-Team discovered the vast majority of diplomatic drivers were pulled over in Fairfax County.
Many are repeat violators with additional charges we uncovered that are not on the State Department's list.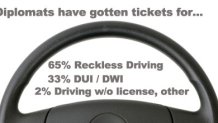 One country had four times as many names than any other: Saudi Arabia. We found tickets for reckless driving, DUI and possession of marijuana. Remember, this is a country where it is illegal to possess alcohol or drugs.
Neither Saudi Arabia nor any of the other embassies we contacted responded to our request for comment and court records show most were never prosecuted because of "diplomatic immunity."
The State Department wouldn't go on camera, but told us even though foreign diplomats can't be tried in court, State always notifies their boss, the ambassador. If diplomats become repeat offenders, the State Department tells the I-Team it will kick them out of the country, which it's done 45 times in the past two years.
When we searched court records, we found a few letters from embassies apologizing, including a letter about the Cameroon ambassador's son promising it will never happen again.
We found children of diplomats make up more than a third of our list. But the State Department says they only get diplomatic immunity until they're 21 or until they're 23 years old if they are attending school.
Which is how we found Rufin Mandzandza, the 28-year-old son of Congo's defense attaché, coming out of the courthouse after pleading guilty to driving 85 mph in Rockville on a suspended license. Records show he'd already been pulled over twice before for DUI.
I-Team reporter Tisha Thomson asked him, "Do you think you could hurt or kill someone? Are you allowed to do this in Congo?"
Mandzandza asked in return, "Are you allowed to video me, to interview me?" Thompson told him she was and asked, "Are you allowed to do this in Congo?"
Mandzandza said, "Stop following me," to which Thompson replied, "We just want to know if you think what you're doing is dangerous?"
Mandzandza said, "I don't have time right now. I have somewhere to go," and walked away.
The State Department tells the I-Team it didn't know about Mandzandza's repeated violations but it is now looking into his driving record. And that, Blanton said, is why Congress ought to force the State Department to post these records on its website every year instead of trying to cover them up.
"If they can drive drunk on our streets, we're all at risk," Blanton said. "If they can get away with it, we're all at risk. These folks' bad acts should not be covered with a classification stamp. That's why it really matters."