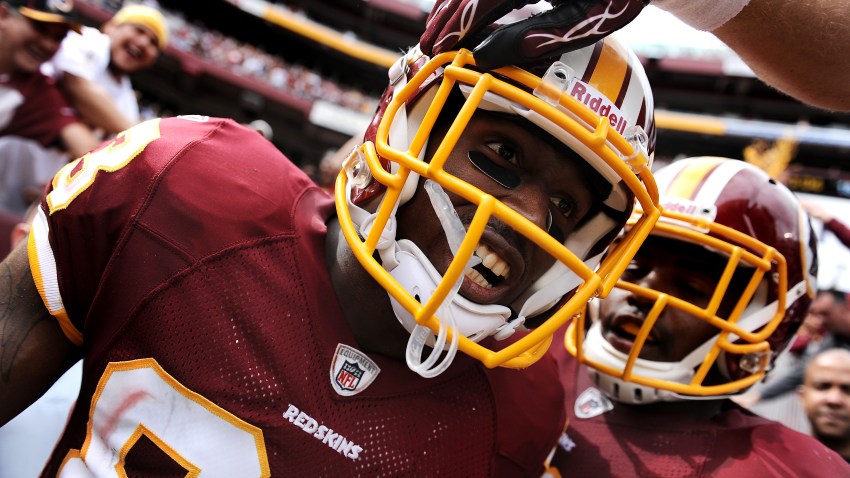 It's old news that the Redskins struggle on Monday Night Football, but their well-documented futility on prime time television is about to come to an end.
Yes it's early and Washington still possesses its fair share of flaws. They might not even win against the Dallas Cowboys on Monday, but the bottom line is the Redskins are a vastly improved team worth watching again whether you're a fan or not.
"We believe we're going to win [every game]," said Adam Carriker. "We believe we're good. When teams actually believe they don't just fold."
The rest of the football world doesn't believe yet though, raising the stakes a bit more in what's already one of football's most storied rivalries. The Redskins haven't done themselves any favors recently what with an ugly lawsuit against the Washington City Paper, a handful of free agent flops and a string of prime time debacles.
What better way to alter public perception than to pull out a victory on the road against the Cowboys in front of a national audience?
"If you can't get up for games like this, then you shouldn't be in this profession," said Mike Shanahan. "From a coaching standpoint or a player's perspective, Monday night, especially in Dallas, it's just a great venue. This, to me, is why you're in this game."
The new mentality over at Redskins Park doesn't guarantee wins nor will the team's 2-0 start necessarily translate to a successful record by season's end. However, win or lose, expect Washington to maintain the same even-keeled approach it has displayed for the first two weeks of the season.
For the Redskins, such composure hasn't often been displayed on football's grandest stage. Two of the franchise's low points came on Monday Night Football – one a 59-28 drubbing at the hands of the Philadelphia Eagles in 2010 and another a lifeless 23-6 loss to the Pittsburgh Steelers in 2008.
The Steelers game in particular holds some significance because the Redskins entered the game with a 6-2 record and a hotshot young coach who was converting everyone into believers.
Of course Jim Zorn only won six more games in the next a season and a half before receiving his walking papers. The Steelers game was the turning point of Zorn's tenure with the team and though he stayed another year he was a dead man walking.
Thus far, Shanahan hasn't been any better on Monday nights. Michael Vick shredded the Redskins defense for six touchdowns in one of the most dominant prime time performances in NFL history in Shanahan's first year as coach.
Making the loss sting even more was the contract Washington had given to former Eagle Donovan McNabb just hours before the game. McNabb signed a long-term deal and promptly lost by 31 points to his replacement in Vick. The game ultimately ended McNabb's underwhelming stint with the team, dealing them an embarrassing blow in front of the entire nation.
There will be no such implosion on Monday. Not only will Shanahan refuse to let that happen, but nor will a roster chock full of accountable players. The slate has been wiped clean and these Redskins aren't the same complacent group of sad-sack superstars.
"I feel like if anybody watches us they'll know this is a different team [with] different players [and a] different mentality," said Fred Davis. "We've got more of a finish attitude. We might mess up, we might do some things wrong, but we're going to go out there and give it all we got."

Hopefully that's the team that shows up Monday or Davis and his teammates will have plenty of explaining to do.