Forced by the D.C. Council to report on its own shortcomings, the Office of Unified Communications released data Friday showing it has been short-staffed a third or more of the time since July 1.
The data, analyzed by the News4 I-Team, also show the District's 911 center is routinely failing to meet national standards in how quickly it answers emergency calls.
The report comes after the D.C. Council passed emergency legislation this summer requiring OUC to provide greater transparency on staffing levels, call-taker or dispatcher errors and answering times. The dashboard gives a previously hard-to-obtain look inside the center, which fields D.C.'s 911 calls and dispatches police, fire and EMS calls citywide.
The 911 center has long been plagued with complaints over its performance, such as misrouting calls, with many errors blamed on short-staffing.
We're making it easier for you to find stories that matter with our new newsletter — The 4Front. Sign up here and get news that is important for you to your inbox.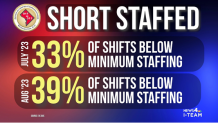 The report shows that, in July, 22 of 67 shifts did not meet minimum staffing levels— a third of all shifts. In August, 26 out of 66 shifts — or 39 percent — fell below minimum staffing goals.
The data doesn't show, however, how often OUC employees have worked overtime to meet staffing requirements or how far below staffing goals the department fell in each shift. The law did not require that.
Local
Washington, D.C., Maryland and Virginia local news, events and information
In a statement, an OUC spokesperson said "the ideal staffing levels for the District's 911 operations are 44 employees for day shifts and 37 employees for night shifts" and said it currently employs 180 people in 911 operations.
Instead, data show that on average, about 75% of calls to OUC are answered within 15 seconds. The I-Team found more than 45,000 calls took too long— more than 15 seconds— to pick up since July 1.
The I-Team also found more than 45,000 calls that took too long — more than 15 seconds — to pick up since July 1, accounting for about 23 percent of all calls received since July.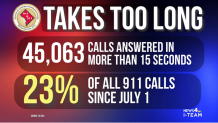 Data analyzed by the I-Team also show the average time to answer was 12 seconds, with the average maximum answer time exceeding three-and-a-half minutes.
The report also included a breakdown of several complaints about call-taker and dispatcher error, including the concern, actions taken and overall finding.
One of the complaints concerned the emergency response to the August 14th flooding at District Dogs, a daycare where 10 dogs drowned in flash flooding.
The report indicates that "calls were received at 17:06 and 17:09" and states "calls were handled appropriately using the call taking questions available at the time." The report goes on to acknowledge the call was dispatched as a "water leak," however, something OUC Director Heather McGaffin later acknowledged was an error.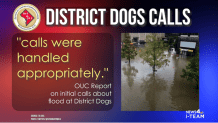 Last month, McGaffin told reporters DC 911 didn't have a code in their system to categorize a flooded building.
Friday's report indicates that, as a result, OUC is working with DC Fire to "make changes to call taking questions and call type that is selected for inside flooding when people are trapped."
In a statement to News4 Friday, OUC said it's working to hire 911 call-takers and dispatchers through job fairs and monthly "prospect days." It's also offering a $2,500 hiring bonus.
"In addition to recruitment, the agency is focused on our greatest asset, our people," the statement said. "Our first, first responders are public safety professionals that face challenging situations every day in their roles. We want to make sure they know they are valued, respected, and appreciated."
NBC4 reporter Mark Segraves contributed to this report.