Get ready for a wet work week. Showers and storms will continue for several days, Storm Team4 says.
Flood warnings are still in effect Sunday night for some counties in Maryland as spotty storms are expected through the evening.
A flood warning has been issued for Frederick County, Maryland, until 8 a.m. Monday. A flash flood watch also remains in effect for the D.C. area until 5 a.m. See a full list of alerts here.
Storm Team4's Somara Theodore said any severe weather will likely stay east of I-95 through tonight.
Rivers and streams were still swollen from Saturday's heavy rains, which broke rainfall records at the area's airports.
Theodore said parts of southern Maryland saw an additional 4 inches on Sunday. D.C. wasn't quite as bad with only an additional half an inch.
Monday will be another dreary day with showers, storms and high humidity. Temperatures are expected to reach the low 80s. Tuesday and Wednesday look to be the same.
A giant sinkhole opened up on Father Hurley Boulevard in Germantown, Maryland, on Sunday. The road is closed both ways between Middlebrook Road and Crystal Rock Drive, the Montgomery County Office of Emergency Management & Homeland Security.
Local
Washington, D.C., Maryland and Virginia local news, events and information
Heavy rains caused a sanitary sewer overflow at Washington Suburban Sanitary Commission's Broad Creek Wastewater Pumping Station in Fort Washington, Maryland. WSSC says its water and wastewater systems are separate and that the overflow did not affect drinking water.
On Saturday, firefighters rescued two people who were trapped in a vehicle on Bradley Boulevard in Montgomery County, Maryland. Fire and rescue spokesperson Pete Piringer said numerous roads were closed in the county due to flooding and many residents' basements were flooded.
In Great Falls, Virginia, rescue workers saved three people who were stuck in a vehicle on a bridge.
The storms shattered rainfall records at all three major airports. Dulles International Airport's 1973 rainfall record of 1.15 inches of rain was far short of the 5.02 inches that fell on Saturday.
With more than 4 inches of rainfall, Reagan National and Baltimore International broke records from 1911 and 1887, respectively.
In Spotsylvania County, Virginia, about 5 inches of rain fell, according to radar.
A giant tree uprooted and fell across Nebraska Avenue NW in D.C. Another tree fell on Tennessee Avenue in Alexandria, Virginia, bringing down power lines and causing a mess.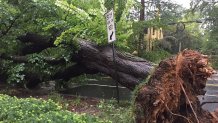 The heavy rain led The Nationals to postpone a highly anticipated game again the Atlanta Braves, only days after one of the Nationals Park dugouts was flooded during the All-Star Game.
The unrelenting rain could cause more flooding through the week.
Aside from rain and storms at times, there'll be plenty of clouds this week with highs mostly in the low to mid 80s and muggy conditions.