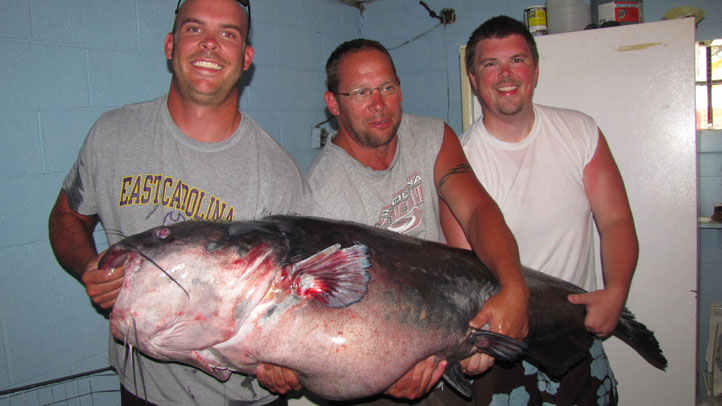 He caught the big one!
A high school football coach fought a 143-pound catfish for 45 minutes before hauling it aboard his boat in Virginia's Kerr Reservoir, near the state's border with North Carolina.
"My brother and my dad were jumping up and down," Nick Anderson, a 29-year-old North Carolina resident told the Times Dispatch. "I just sat there kind of shocked. At the time we didn't know how much he weighed."
Virginia game officials say the state could have a new world record for blue catfish.
The state Department of Game and Inland Fisheries is reviewing the entry, which measured 57 inches. A catfish that size is likely between 15 and 25 years old.
Anderson caught the fish late Saturday night, and had the local sheriff's office ask the game department to reopen so the fish could be weighed.

According to the International Game Fish Association, the current world record of 130 pounds was set last year in Missouri.

In March, the current state record was set when a 109-pound blue cat was caught on Buggs Island Lake near the confluence of the Dan and Roanoke rivers.
Copyright AP - Associated Press