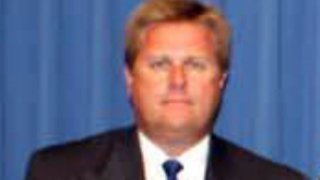 A Fredericksburg, Va., police captain was relieved of his duties after being charged with contributing to the delinquency of a minor, according to Fredericksburg police and the Stafford County Sheriff's Office.

Deputies found a 17-year-old male walking on Warrenton Road during the early morning hours on Saturday, according to the sheriff's office.  The teenager told the deputies that he locked himself out of his motel room and that the man who rented the room would be back later.  

Brent Mitchell Taylor, 46, of Fredericksburg, picked up the teenager without parental permission and took him to the Motel 6 on Warrenton Road after meeting him online, according to the sheriff's office.
Taylor was arrested when he returned to the motel. He is accused of having inappropriate personal contact with the teen.

Taylor is a police captain in charge of the Detective Division for the City of Fredericksburg.  Fredericksburg police said that Taylor has been placed on paid administrative leave pending investigation.
Follow NBC Washington to get the latest news, events and entertainment anytime, anywhere: on air, online, and on Facebook // Twitter.