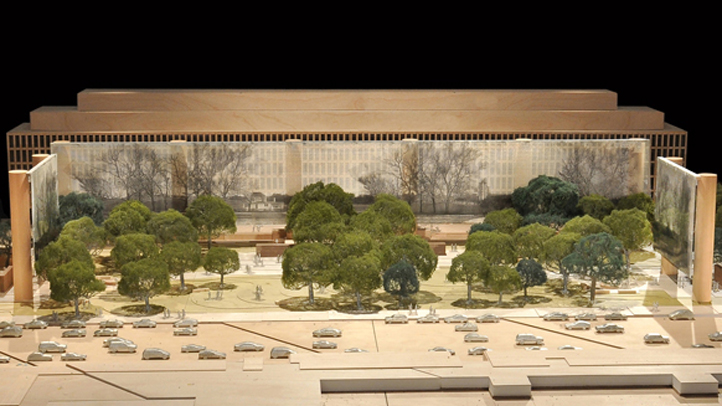 A Virginia congressman asked a federal panel to reject a design for a memorial honoring President Dwight D. Eisenhower in Washington, saying the World War II general's family objects to it.

In a letter to the National Capital Planning Commission, Rep. Frank Wolf said he is worried the approval process is being rushed and that the design by famous architect Frank Gehry won't have public support.

Last month, The Associated Press reported the Eisenhower family was asking the commission to delay final approval so the memorial could be redesigned. The family said the design overemphasizes "Ike's" humble roots and neglects his accomplishments as a president and war hero.

Architect Frank Gehry has proposed a memorial park framed by large metal tapestries depicting Eisenhower's boyhood home in Kansas.

Eisenhower as general and president would be represented in stone on a smaller scale. In the park, a statue of "Ike" as a boy would seem to marvel at what would become of his life. Gehry has said the idea was inspired by Eisenhower's homecoming speech when he returned to Kansas after World War II and spoke of a "barefoot boy" from Kansas who went on to achieve fame in Europe.

In his letter, Wolf echoed the family's objections.

"President Eisenhower was a towering figure of the 20th century," he wrote. "I agree with Susan Eisenhower that depicting her grandfather as a barefoot adolescent is inappropriate for a memorial on the National Mall and would not convey the importance of his achievements."

He asked that the monument be reopened for other design submissions. Wolf said he decided to voice his objections because he has long admired Eisenhower and thought he deserves an "appropriate" recognition in Washington, and he saw that the family was upset.

The Eisenhower Memorial Commission, which selected Gehry for the project, declined to comment on Wolf's objections.

The federal commission includes eight members of Congress, including four from the House and four from the Senate, but the members have not spoken publicly about the dispute over the design. Kansas' two senators are members of the commission.


Copyright AP - Associated Press