The tan building is almost easy to miss along busy Rhode Island Avenue in North Brentwood. But once you enter the Prince George's County African American Museum and Cultural Center, you'll find it hard to look away.
The walls along one hallway are decorated with black-and-white photographs of African-American families who once called Prince George's County home. In another room, devastating letters, informing a black soldier's family of his death nearly two months after it occurred, are artfully placed on a wall.
"Our mission is to preserve Prince George's black history," Chanel Compton, the museum's executive director, said.
"Chocolate Cities," the museum's latest exhibit, debuts Wednesday. An opening reception, featuring giveaways by black-owned businesses, will be held Friday at 6 p.m.
The exhibit and program series will examine cities around the United States whose population are or once were majority black. Prince George's County and Washington, D.C., will be a focus of the exhibition.
In the 1970s, African-Americans made up more than 70 percent of D.C.'s population. Forty-five years later, the population was down to 48.3 percent, according to census data from 2015.
"We want to focus on what has been sustained through gentrification and how we continue to create," said "Chocolate Cities" curator Martina Dodd.
Local
Washington, D.C., Maryland and Virginia local news, events and information
The art displayed throughout the exhibit explores topics like black fatherhood, violence in the community, urban renewal and city dwelling.
The exhibit, which features many local artists, showcases their interpretations of "chocolate cities," according to Dodd.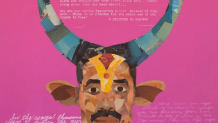 One of the most striking series in the exhibit is Imar Hutchins' "Sacred Cows."
Inspired by the reverence given to cows in India, each portrait in Hutchins' series features a person from his life adorned with brightly colored jewelry and clothing.
The collage and mixed-media work is a commentary on the treatment of African-Americans in America, Dodd said.
"He took people in his life and imagined them as sacred cows, creating them as deities," Dodd said. "But also thinking about cows in America and how they're a labor force."
Another collection features black-and-white photos of a famed checkers club in the Shaw neighborhood of Washington, D.C.
"In this area of Shaw -- among the shiny new businesses -- is a building with a mural of men playing checkers," Dodd explained. "The artist went there and learned it was a checkers club. They're still active and congregate every week to play."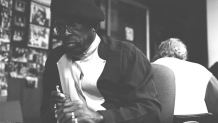 "These stories are not unique, but it's wonderful to have an institution where we can preserve these memories," Compton said.
The "Chocolate Cities" exhibit will also include a number of programs throughout the year.
On Feb. 26, the museum will hold an event called "Well Rooted: Black Townships in Prince George's County. In July, "A Taste of Chocolate City" will explore the food and culture of those townships. North Brentwood, the neighborhood where the museum is located, was the first municipality in Prince George's County incorporated by African Americans.
"I would like people to walk away more curious than when they walked in," Dodd said. "I want the exhibit to spark interest, for people to talk to their grandparents, to meet someone in the community, to do their own research."
"The more you learn about a place and its history, the more you want to protect it," Compton added. "How can you not be inspired?"