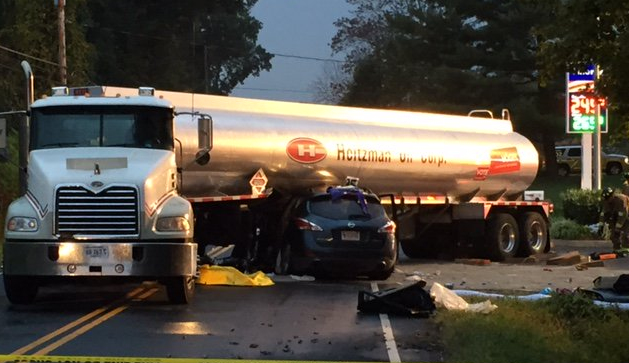 A car crashed into a tanker truck near a gas station Wednesday morning, causing 100 gallons of fuel to spill along a road in Hamilton, Virginia.
The crash happened at 5:30 a.m. near a gas station along East Colonial Road. Loudoun County fire officials say the driver of the car struck the truck while it was backed into a gas station.
The tanker truck was carrying 9,000 gallons of fuel at the time, fire officials say. One hundred gallons of fuel spilled onto the road.
Virginia State Police say the woman driving the car was pulled from the vehicle and flown to the hospital with serious injuries.
The driver of the tanker truck was not injured in the crash, but the impact of the crash did damage the truck. Police say the spill has been contained, and the situation is being handled by a HAZMAT crews.
All lanes of East Colonial Road are closed at Northwoods Place, VDOT said on Twitter.
The crash remains under investigation.