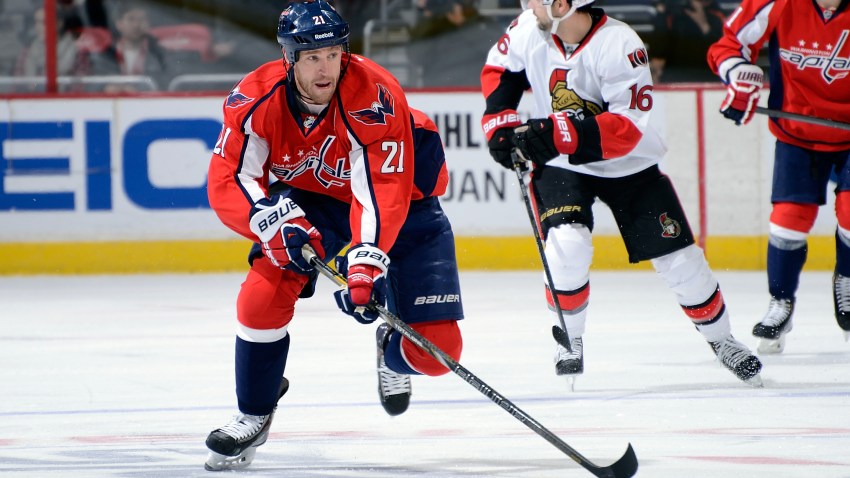 After the Washington Capitals took their team photo Thursday morning at Kettler Capitals Iceplex, forward Brooks Laich took his first strides on the ice since undergoing groin surgery on March 17.
Laich, a fiery competitor, will readily admit that grappling with a nagging groin injury for the past two seasons has been one of the most trying experiences of his life. After a year and a half, Laich is hopeful that he can finally put his well-documented injury woes behind him.
"I feel like I had chains around my body and now somebody just came and cut them off and now I'm free to move about in any direction at any time I want. And it's completely liberating," Laich said. "That's honestly how I feel — mentally and physically liberated and free to get on with my hockey career and excel in the sport, not just participate."
Laich's latest procedure to release a tight adductor was more invasive than the one he had last April, and as soon as nine hours after going under the knife, he felt immediate relief from the pain that has made it difficult for him to even turn over in his sleep.
According to Laich, he waited this long to have the surgery because he was unsure whether the pain he was experiencing was residual soreness from the previous procedure. After groin specialist Dr. Michael Brunt informed Laich that no amount of rehab or rest would have completely healed the injury, Laich knew that he had no other choice.
"We tried everything and I got to the point where I needed something nuclear to fix this," Laich said. "Last Monday we did something aggressive and proactive and my body and my head are honestly telling me this is behind me and now it's just a matter of getting myself back to the speed and the explosiveness.

"It hampered my hockey career and it hampered my life outside of hockey. I need to get back to being a person able to thrive at a career, not just to scratch out another year."
The recovery timetable for Laich, who admitted Thursday that he was playing games at "maybe 10 percent" before ultimately being shut down two weeks ago, was originally set at four to six weeks. Yet the 30-year-old did not rule out a potential return within the Capitals' final nine games of the regular season.
He has gradually ramped up his off-ice workouts and plans to skate on his own prior to Washington's practice Friday.
"There's a chance, but it's also very optimistic," he said. "Number one goal, I realize the gravity of the situation we're in [in the standings], but my goal is ultimately the longevity of my career.
"I need to get back to being healthy and have this completely behind me, which I feel I'm on the track. Then my body will tell me, 'Okay, I'm very comfortable' and I can really push it and let's get back into the lineup. I have my eye on the season, I'm still in hockey mode, but I can't guarantee anything today."
---
Follow Adam on Twitter @AdamVingan and e-mail your story ideas to adamvingan (at) gmail.com.