Former Virginia Gov. Robert McDonnell is likely to face intense scrutiny from inmates, if he begins serving a two-year prison sentence for corruption, according to a former high-ranking government official who served a similar sentence for a similar crime.
In an interview with the News4 I-Team, former U.S. Congressman Robert W Ney (R-Ohio), convicted and imprisoned in 2007 for exchanging official government acts for gifts, issued warnings to McDonnell about life in federal prison as a famous elected official. Ney, who served a two-year prison sentence, said, "You want to stay low profile, you don't want high-profile visitors. The prison system hates it."
Ney served his prison term at the federal prison in Morgantown, West Virginia.
"(Public officials) have to be careful, because everybody else (in the prison) thinks that you think you're above them," he said. "You're going to project an image that you don't want to have in prison."
Ney told the I-Team he was considering, but decided against, writing a letter to the federal judge who presided over McDonnell's case asking for a stiff penalty for the former Virginia governor. Ney said McDonnell didn't appear to be fully contrite. He said he was angered by reports that McDonnell supporters sought leniency for the former governor by comparing his case with Ney's.
"I've been in his shoes," Ney said. "When you get found guilty you can plead all day long, but there must be something there."
A judge ruled McDonnell and his wife, who also was convicted of corruption and sentenced to prison, can remain free pending their appeals to a different federal court. A decision has not yet been announced about which federal prison to which either McDonnell would be assigned. There are federal prisons in Virginia and Maryland. Though cameras are prohibited inside federal prisons, the News4 I-Team obtained images from inside some of the local federal prisons, using the Freedom of Information Act. Those images show the use of bunk beds, recreational facilities and brown-colored inmate clothing.
Local
Washington, D.C., Maryland and Virginia local news, events and information
Behind Bars: Images From Inside Federal Prison
The I-Team also obtained a list of commissary items McDonnell would be permitted to purchase if placed at the federal prison in Petersburg, Virginia (click on the image below), which is in close proximity to McDonnell's former government offices in Richmond.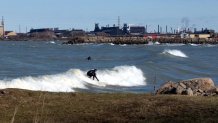 A McDonnell legal representative declined requests for comment from the I-Team.
Ney said he was permitted to keep only two personal items during his prison term: A pair of eyeglasses and a wedding ring.
Ney said family members of public officials suffer greatly during prosecutions and criminal sentencing.
"Everybody is living in paranoia," Ney said. "Your kids are followed. Your family is followed. It's a whole nightmare."
He said his family, still based in Ohio, was supportive and welcoming after his prison term.
A spokesman for the U.S. Bureau of Prisons said federal statute prohibits the agency from showing any favoritism to any inmate because of that inmate's social stature or prominence. He said no final decision has been reached as to where McDonnell would be imprisoned, if the former governor's appeal fails.
The U.S. Bureau of Prisons said it would consider a judge's recommendation when determining at which federal prison to place Bob McDonnell. The spokesman said,
"The Bureau of Prisons weighs carefully the judge's recommendation for an offender's place of incarceration," the spokesman said. "However, a number of factors impact designation to a federal prison, to include things such as the level of security and supervision an inmate requires, programing and medical/mental health needs, proximity to the inmate's release residence (to facilitate the maintenance of family and community ties), and population management considerations due to crowding throughout the federal system."
Ney recently released "Sideswiped," a book chronicling his career and federal prosecution. The book was published by Changing Lives Press.