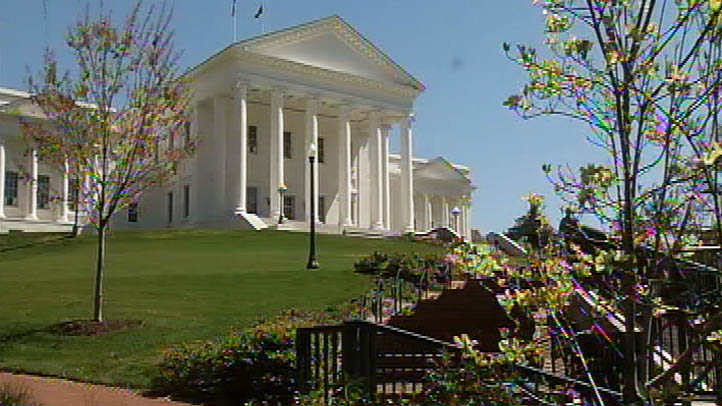 Energized Democratic opposition to President Donald Trump means Virginians will have a lot more choices when they pick members to the state House of Delegates this year.
But many Democratic candidates will be facing a stacked deck as Virginia is one of several states where favorably drawn districts have given Republicans a measurable advantage in past elections, an Associated Press analysis showed.
The Associated Press scrutinized the election outcomes of all 435 U.S. House races and about 4,700 state House and Assembly races last year using a new statistical method of calculating partisan advantage designed to detect potential political gerrymandering.
The analysis found four times as many states with Republican-skewed state House or Assembly districts than Democratic ones, including in Virginia. And only four other states had a lower percentage of contested races in 2016, when most states held state House elections, according to the AP's analysis.
Political scientists said gerrymandering can cause a lack of competition, as party-friendly lines discourage challengers.
But there's a lot people willing to run this year in Virginia, in a possible sign of how a growing anti-Trump wave will lead to greater competition around the country next year. The Old Dominion's off-year elections often serve as a bellwether for national trends.
There are 60 districts contested by both major parties, according to an early count by the Virginia Public Access Project, more than double the number two years ago. Only 12 Republicans aren't facing a Democratic challenger in November's election this year, compared to 44 Republicans who ran unopposed or faced only a third party challenger in 2015.
Democratic House Minority Leader David Toscano said the reason why more Democrats are running this year is obvious.
"It's called Donald Trump," he said.
Toscano said opposition to Trump is so strong that it's overcome the reluctance Democratic candidates have had in the past to compete in a district with Republican-friendly boundaries.
"They feel very strongly that we have to put people on the field to give voters a choice, and that's the only way we're going to come back," he said.
Some Democratic candidates in GOP leaning districts may face long odds, but even running a credible campaign can help the party overall by forcing Republicans to spread out their spending. In past years, a lack of competition let Republicans pool resources and spend heavily on a handful of competitive districts.
Democrats have long complained that Republican lawmakers drew unfair lines during the 2011 redistricting process and said the proof is in plain sight. Virginia is a swing state where Democrats have won, often by slim margins, every statewide office since 2009.
But Republicans have a 7-4 majority in the state's congressional delegation and currently control the state House 66-34.
Republican lawmakers have steadfastly defended the state districts lines as legal and fair and noted that many GOP candidates have won in districts that Democratic in presidential elections.
"The model may say one thing, but the truth is Republicans hold 17 House seats won by Hillary Clinton in 2016. Their problem is weak candidates who run poor campaigns based on bad ideas, not the districts,'' said House Speaker William J. Howell spokesman Christopher West.
The chief architect of a Republican legislative redistricting plan has previously said politics played a key role in drawing lines but in ways that helped incumbents in both parties. Del. Chris Jones testified in federal court he tried to accommodate requests from a large majority of delegates, both Republicans and Democrats, who sought to tweak lines, sometimes to draw out precincts where they had historically performed poorly.
Sometimes, delegates wanted the boundaries changed to draw out a potential primary challenger, Jones said.
Legal efforts by Democrats and others to undo the 2011 boundaries have met with mixed success.
The state's congressional map was deemed unconstitutional and redrawn by order of federal judges in 2016, but legal challenges to redraw state House districts are tied up in appeals.
Even with the new lines from last year, Virginia's congressional district favors the GOP, the AP's analysis showed. Republicans may have won an extra congressional seat over what would have been expected based on the average vote share around the state that shows a large so-called "efficiency gap."
The AP's analysis was based on a version of the "efficiency gap" formula developed by University of Chicago law professor Nick Stephanopoulos and Eric McGhee, a researcher at the nonpartisan Public Policy Institute of California.
The formula essentially measures and compares each party's wasted votes, those going to the winner in excess of what's needed for victory, in an election and showed Virginia's GOP votes are more efficiently spread out than Democratic votes.
The formula was cited as "corroborative evidence" in a redistricting case in Wisconsin, where a federal appeals court panel last fall struck down state legislative districts as an intentional partisan gerrymander in violation of Democratic voters' constitutional rights.
The U.S. Supreme Court said it will hear that case, potentially affecting voting across the U.S.
Copyright AP - Associated Press