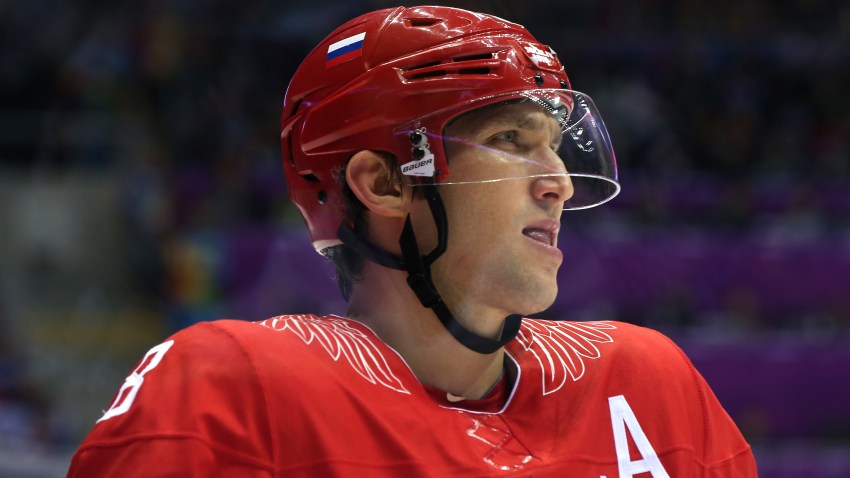 Alex Ovechkin's return to Washington following the 2014 Sochi Olympics could be delayed after his father underwent surgery for a heart condition during the hockey tournament.
Mikhail Ovechkin, 62, began experiencing what Capitals general manager George McPhee described as "heart issues" following Russia's preliminary-round game against Slovakia on Feb. 16.
The elder Ovechkin underwent surgery and is currently in stable condition in Sochi, where Alex, who was not made aware of his father's condition until after Russia was eliminated by Finland three days later, remains by his side. He was originally scheduled to depart on a charter flight to Moscow on Thursday morning.
"I'm sure his parents didn't want him distracted but family means everything," McPhee said. "That's why he stays until he's ready to come back."
The Capitals have told the 28-year-old to stay in Russia as long as necessary and there is no expected return date. Washington's first game following the Olympic break is on Feb. 27 against the Florida Panthers.
How Ovechkin will respond to this devastating development and Russia's disappointing finish in Sochi will surely play an integral role in how the Capitals fare down the stretch.
"It's certainly going to be a most difficult time in his life," McPhee said. "The Olympics meant a great deal to him and his father's sick, so this is not going to be easy for him, but when he comes back we expect he'll give us everything he's got as he always has."
---
Follow Adam on Twitter @AdamVingan and e-mail your story ideas to adamvingan (at) gmail.com.