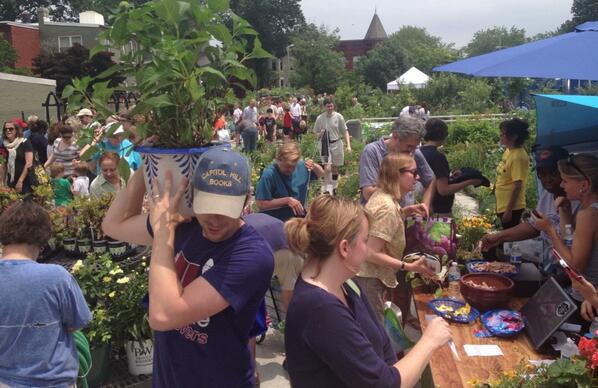 Four days after a fire ripped through a venerable Capitol Hill hardware store, its owner and D.C. Mayor Vincent Gray announced an agreement that would allow a pop-up version of its lawn and garden store to operate at Eastern Market.
"Frager's Hardware is one of the most beloved businesses in the District, and none of us can imagine the Capitol Hill community without Frager's," Mayor Gray said at a press conference Sunday afternoon. "We wanted to ensure that the District did everything we could to help this locally owned and operated small business weather the hardship caused by this fire and continue serving its neighborhood and employing District residents as it rebuilds."
The store location at 1115 Pennsylvania Avenue SE was gutted by a four-alarm fire on the evening of June 5. Around five hours and more than 200 firefighters were eventually required to contain the blaze. No one was injured, but public officials and Capitol Hill neighborhood residents alike expressed sorrow at the loss of the store, which had stood at the same site since 1923. The cause is still under investigation.
The agreement announced by Gray and Frager's owner John Weintraub was concluded with the District's Department of General Services, which controls a parcel of land on 7th Street SE. Under the terms of the agreement, the lawn-and-garden portion of the store was able to reopen Sunday. Most of the plants and supplies in the store's nursery escaped damage in the fire, even as the interior of the store was destroyed.
Since Wednesday, Weintraub has vowed multiple times to reopen the business entirely. The aim of the pop-up shop is to maintain a revenue stream during the busy summer months.