Police in D.C. and Prince George's County say they need help from the public identifying dozens of men who illegally tore through streets on dirt bikes and ATVs on Sunday.
Ahead of the busy 4th of July weekend, D.C. police distributed photos of 54 men accused of stopping traffic and sending pedestrians scrambling. Prince George's County police publicized photos of eight men.
A group of nearly 100 dirt bike and ATV riders caught on video wove in and out of vehicle and pedestrian traffic on Sunday in National Harbor, Maryland. Riders also were seen in D.C. on Pennsylvania Avenue, on H Street NE and near the Tidal Basin.

Go to the gallery below to see photos of every person of interest.
Surveillance Photos: Police Seeking Even More ATV Riders

"People are sick and tired of this behavior in our community," D.C. Police Chief Peter Newsham said at a news conference Friday afternoon.
"This behavior is reckless, it's dangerous, it terrifies our kids, our moms, our dads, our seniors," he continued. "And it's pathetically, in my opinion, juvenile -- grown men acting like juveniles."
Police have information to believe that some of the riders came from as far away as Florida and Indiana, Newsham said.
Spike in Dirt Bike, ATV Thefts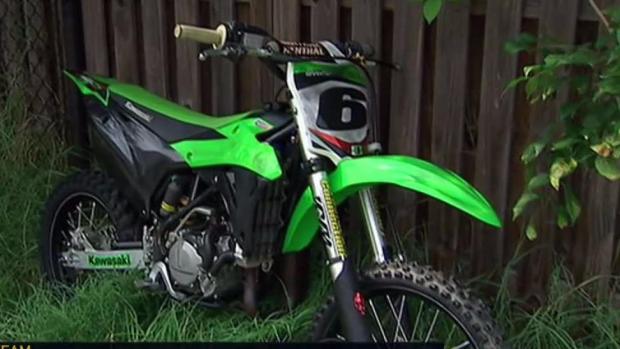 The ride on Sunday was scary, a witness in National Harbor said.
"People were just trying to get out of the way," he said.
The man, who asked not to be identified, said he was worried someone could get hurt.
Police tried to stop the riders, but they got away.

ATVs Overwhelm Busy D.C.-Area Streets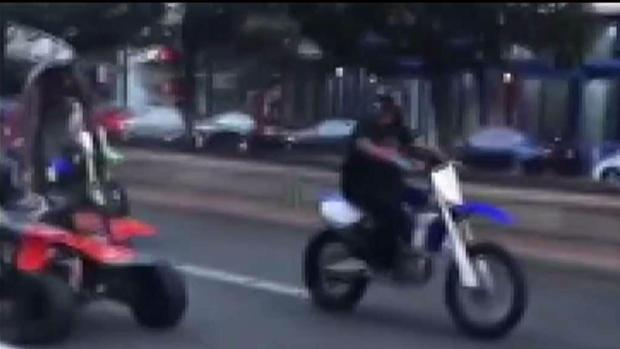 This weekend, Prince George's County officers in uniform will police the riders using the department's own dirt bikes and ATVs.
They also will use video surveillance, and their aviation unit.
"They will be on standby to monitor and follow these ATVS, should they decide to show up," Deputy Chief Chris Murtha said.
Photos from Prince George's County Police showed several men with ATVs and dirt bikes at a gas station.
Police said three men shown in the photos are suspected of armed robbery. A man tried to sell a dirt bike online. When he met with the seller, the men held him up at gunpoint and took the bike without paying, police said. That incident was not related to National Harbor, they said.
#Breaking: Prince George's Police have identified persons of interest in the National Harbor ATV case. #NBC4DCpic.twitter.com/YbXjA5Qhl5

— Tracee Wilkins (@TraceeWilkins) June 30, 2017
These are suspects who police say stole someone's bike at gunpoint. Unrelated to National Harbor but speaks to associated criminal activity. pic.twitter.com/WGKsQ7gbx5

— Tracee Wilkins (@TraceeWilkins) June 30, 2017
Police on persons of interest in Nationa Harbor ATV Riders: pic.twitter.com/w8g59bm042

— Tracee Wilkins (@TraceeWilkins) June 30, 2017
"This will not be tolerated," Prince George's County Deputy Police Chief George Nichols said Monday. "It is egregious and malicious behavior, and for those that engage in it, we just want you to know that you are not safe. We are coming for you."
ATVs Driven Through Traffic, on Sidewalk at National Harbor
Prince George's County police promised to do everything they can to get the riders off streets.
"I have personally met with our legislators down in Annapolis, and they are actually working on legislation to ensure we get stiffer penalties for those who engage and indulge in this type of activity," Nichols said Monday.
It's illegal to ride a dirt bike or ATV anywhere on public space in D.C. or Prince George's County. It's a jailable offense in Prince George's County. Information was not available immediately on the punishment in D.C.
In spring 2016, D.C. police announced a crack down on people who illegally ride dirt bikes and ATVs on city streets. Surveillance images of 245 persons of interest were released then.
Fifty-nine riders were arrested in 2016, and 41 of the vehicles were recovered, police said.
So far this year, 21 riders have been arrested, and 10 of the vehicles have been recovered.
DC Police Crack Down on Dirt Bikes, ATVs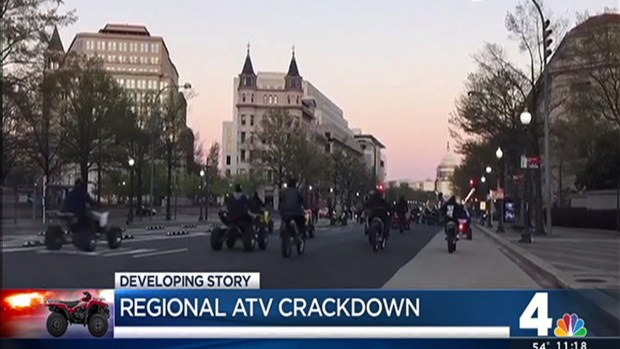 D.C. police are offering a reward of as much as $250 for information on the riders. Call 202-727-9099 or send a text to 50411.
Editor's Note: This story has been updated to correctly attribute statements by Prince George's County Deputy Police Chief George Nichols.