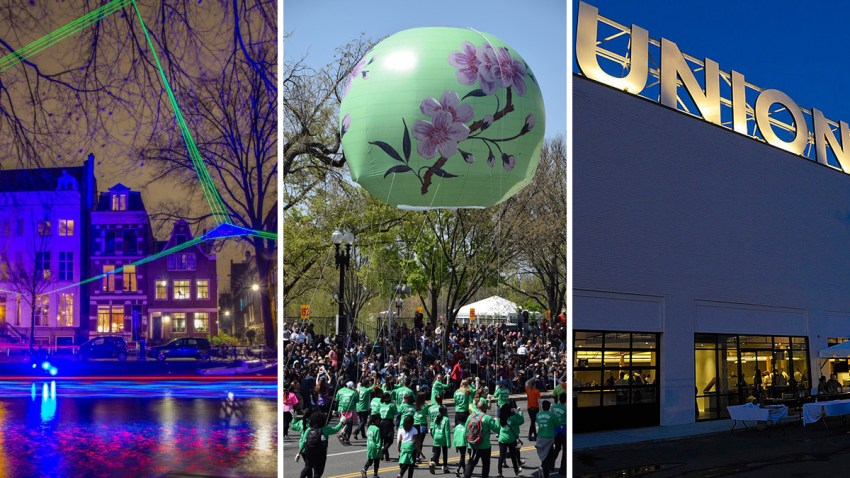 This weekend is shaping up to be spring-like and beautiful, said Storm Team4, which is perfect since there will be so many fun things to do in the D.C. area.
We've rounded up some of the can't-miss events happening this weekend -- and scroll down to see a map of all locations.
Union Market's Drive-In movie series returns Friday night, with a screening of "The Royal Tenenbaums" at 8 p.m. There's a $10 parking fee per car, but the movie is free for walk-ups. The lot will close at 7:30 p.m., so get there early! Buy parking tickets in advance here. (See the complete movie schedule online here.)
This is the last weekend of Light City Baltimore, and you won't want to miss it. Road-trip it to Baltimore's Inner Harbor for dazzling illuminated art installations, performances, food and drinks Friday and Saturday nights from 7 p.m. to midnight.
Meanwhile, the cherry blossom excitement continues with the National Cherry Blossom Festival Parade on Saturday from 10 a.m. to noon. The parade will march along Constitution Avenue from 7th to 17th streets NW. Parade viewing is free and open to the public along the streets, but be sure to arrive early for the best views. Grandstand seating is also available for $20.
Also part of the National Cherry Blossom Festival, the Sakura Matsuri Japanese Street Festival (M Street and New Jersey Avenue SE in the Capitol Riverfront neighborhood) celebrates Japanese culture in the United States. You'll find vendors, food, cultural groups and performances for the whole family to enjoy. The festival is Saturday from 10:30 a.m. to 6 p.m.
Since Emancipation Day will fall on Easter this year, D.C. will celebrate this Saturday instead of April 16. A parade will march Pennsylvania Avenue NW starting at 1 p.m., followed by a concert at 3 p.m. at Freedom Plaza (see the list of performers here). Then, at 9 p.m., fireworks will illuminate the sky over Freedom Plaza. Emancipation Day celebrates the day President Abraham Lincoln signed the Compensated Emancipation Act, freeing more than 3,100 enslaved people in the District.
Looking to get a head start on enjoying Easter candy? Check out PEEPS Day on Saturday at National Harbor. You'll find a PEEPS eating contest, a dance contest, face painting, a moon bounce and a screening of "Willy Wonka and the Chocolate Factory."
The Anacostia River Festival will wrap up the weekend Sunday, from 1 to 5 p.m. at Anacostia Park (Anacostia Drive and Good Hope Road SE). Ride your bike in the bike parade, play lawn games, get a bike tuneup and check out the local arts scene at Anacostia Park.