Employees at a Virginia TV station were warned two years ago about the man suspected in the murders of a television reporter and photographer during a live broadcast early Wednesday.
According to employment files from WDBJ — the CBS affiliate in Roanoke, Channel 7 — workers were told to "call 911 immediately" if they saw ex-reporter Vester Lee Flanagan II on company property, NBC News Investigations reports.
Flanagan is the suspect in the slayings of reporter Alison Parker and photographer Adam Ward, who were gunned down while conducting an interview around 6:45 a.m. Wednesday.
The three had worked together at the TV station, where Flanagan went by the on-air name Bryce Williams. But when Flanagan was fired in February 2013, a 911 call summoned police to remove him from the premises, NBC News Investigations has learned.
According to WDBJ documents, Flanagan said, "You better call police because I'm going to make a big stink. This is not right." According to station files, he had to be physically lifted by his chair by management and threw a ball cap at a station employee.
The 2013 incident was recorded by Adam Ward, one of the victims.
Off-duty police officers stood guard at WDBJ from 6 a.m. to midnight the Saturday and Sunday after Flanagan's termination.
Hours after Wednesday morning's deadly shootings, Flanagan, 41, shot himself along a Virginia interstate. He was airlifted to a hospital in Fairfax County, where he died.
Parker and Ward were remembered Wednesday night at a vigil in Franklin County, where dozens of people lit candles as the sun set.
Local
Washington, D.C., Maryland and Virginia local news, events and information
A man claiming to be Flanagan faxed a lengthy document to ABC News shortly before 8:30 a.m. Wednesday, sharing what the news network described as a long list of grievances. The writer said he experienced "racial discrimination, sexual harassment and bullying at work," ABC said.
NBC has not independently seen or verified this information.
In the 23-page document, the man claiming to be Flanagan said the June mass shooting at a church in Charleston, South Carolina, pushed him over the edge, ABC News reported. He said he placed a deposit for a gun two days after the Charleston shooting.
"The church shooting was the tipping point... but my anger has been building steadily... I've been a human powder keg for a while... just waiting to go BOOM!!!!" the document said in part, according to ABC News.
The writer also expresses admiration for those who orchestrated mass shootings at Virginia Tech in 2007 and at Columbine High School in 1999, ABC News reported.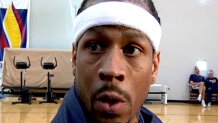 Wednesday's shooting played out on live television as Parker, 24, and Ward, 27, conducted an interview shortly before 6:45 a.m. at Bridgewater Plaza, a shopping mall located just off Smith Mountain Lake, a large vacation destination in Moneta, Virginia, about 25 miles southeast of Roanoke.
Police said Flanagan walked up to Parker and Ward as they interviewed Vicki Gardner, the head of the Smith Mountain Lake Chamber of Commerce. The footage shows Parker listening to Gardner talk about local tourism when someone opens fire outside the frame.
Parker screams and moves out of the view of the camera, amid the sound of at least eight gunshots.
After the camera drops to the ground, it captures an image of the gunman, dressed in black, pointing the gun toward the cameraman. The video then cuts back to the concerned and confused anchor in the studio.
Parker and Ward were fatally shot; Gardner was wounded and underwent emergency surgery, according to a Roanoke hospital. She is in stable condition.
Police said the shooter drove away from the scene. Investigators identified Flanagan as a suspect from information gathered at the scene.
Someone who appeared to be Flanagan posted several posts to social media late Wednesday morning, including a first-person video of the attack. Twitter quickly suspended the account.
Flanagan had worked at WDBJ, channel 7 in Roanoke, from March 2012 until February 2013.
General Manager Jeff Marks said the station employed Flanagan as a reporter and that while he showed some talent in the position, he was "an unhappy man" who "quickly gathered a reputation somewhat of being difficult to work with."
"He was sort of looking out for people to say things that he could take offense to," Marks said on his station's broadcast Wednesday. "And eventually after many incidents of his anger coming to the fore, we dismissed him. And he did not take that well. We had to call the police to escort him from the building."
Shortly before 11 a.m. Wednesday, Flanagan's 2009 Ford Mustang was located at Roanoke-Blacksburg Regional Airport, Franklin County Sheriff Bill Overton Jr. said. Flanagan switched to a Chevrolet Sonic he rented earlier this month.
Authorities tracked him along the I-81 corridor. A state trooper stationed at I-66 and I-81 to monitor traffic with a license plate reader hit on a suspect vehicle shortly before 11:30 a.m., according to Virginia State Police. She caught up to the Sonic and radioed for backup. When it arrived, the troopers attempted to stop the car in Fauquier County, about a three-hour drive from Smith Mountain Lake.
Flanagan did not stop for police, but after a mile-and-a-half he drove off the left of the highway into an embankment. Troopers found Flanagan, the lone occupant, with a self-inflicted gunshot wound, authorities said.
Flanagan was airlifted to Inova Fairfax Hospital with life-threatening injuries. He was pronounced dead at 1:26 p.m.
Both slain crew members grew up in the area, WDBJ reported. Ward grew up in Salem and graduated from Virginia Tech, while Parker grew up in Martinsville and had a degree from James Madison University.
"This terrible crime against two fine journalists, I cannot tell you how much they were loved," Marks said. "Our hearts are broken."
Parker's father, Andy,
told the Washington Post
, "My grief is unbearable. Is this real? Am I going to wake up? I am crying my eyes out. I don't know if there's anybody in this world or another father who could be more proud of their daughter."
Andy Parker said he received a text message from WDBJ saying his daughter had been involved in a shooting, and he suspected the worst after he didn't hear from her personally, the Post reported.
"Initially, we had some hope, but I knew in my heart of hearts. Alison would have called me immediately to say she was okay," Andy Parker told the Post.
"She loved her job," said her mother, Barbara Bailey Parker, to a reporter for Roanoke NBC afilliate WSLS. "She was beautiful and everyone loved her. She believed in giving back to the community. She was always involved and always had a smile on her face. I think she did wonderful things and touched so many people."
Ward was engaged to a producer at the station who was celebrating her last day at work Wednesday. He planned to get out of news and follow his fiancée to Charlotte.
It was Parker who brought in the cake and balloons for the producer's last day.
"You can hear people behind us in the newsroom crying... it's just really hard to even comprehend," WDBJ anchor Jean Jadhon said on air.
Anchor Chris Hurst said he was dating Parker, who he called "the most radiant woman I ever met."
"We were together almost nine months. It was the best nine months of our lives. We wanted to get married. We just celebrated her 24th birthday," he tweeted.
Hurst said they had just moved in together.
"There are no words to express how heartbroken I am by the senseless tragedy in Moneta this morning," Sen. Tim Kaine, D-Va., said in a statement. "My deepest sympathies go out to the loved ones of Alison Parker and Adam Ward, as well as the entire WDBJ family."
White House Press Secretary Josh Earnest said he had not yet spoken to President Obama about the shooting. But he said, "This is another example of gun violence that is becoming all too common in communities large and small all across the United States."
He called for Congress to pass "some common sense things" to "have a tangible impact in reducing gun violence in this country."