At least 15 Metro employees required medical treatment because of the Jan. 12 smoke incident near the L'Enfant Metrorail station, most of them Metro Transit Police officers, according to a cache of internal emails obtained by the News4 I-Team.
Those emails reveal several new details about the deadly incident, including the city's initial theory of the cause of the smoke; problems that city officials reported while trying to reach a major local hospital for updates on patients; concerns among top officials about the well-being of a city employee, and city administrators' close monitoring of the place of TV cameras in the smoke's aftermath.
In the hours after smoke filled a Metrorail tunnel near the L'Enfant Plaza station, top city and Metro officials exchanged a flurry of emails, exchanging news and anecdotal reports about the impact of the smoke incident. Those emails were released by the Office of City Administrator and the city's Homeland Security and Emergency Management Agency after a pair of Freedom of Information Act (FOIA) requests by the News4 I-Team.
In one of those emails, mayoral aide Lindsey Parker notifies colleagues that the victims include 15 Metro employees, who were being treated at The George Washington University Hospital. Parker's email was sent at 10:40 p.m., seven hours after the smoke incident.
She wrote, "15 Metro employees are being treated at GW: primarily Transit police officers, a number of their Emergency Management personnel, and 1 train operator." A second email, sent by city community affairs aide Charon Hines, specified that one of the Transit Police employees who was treated at the hospital was a police lieutenant.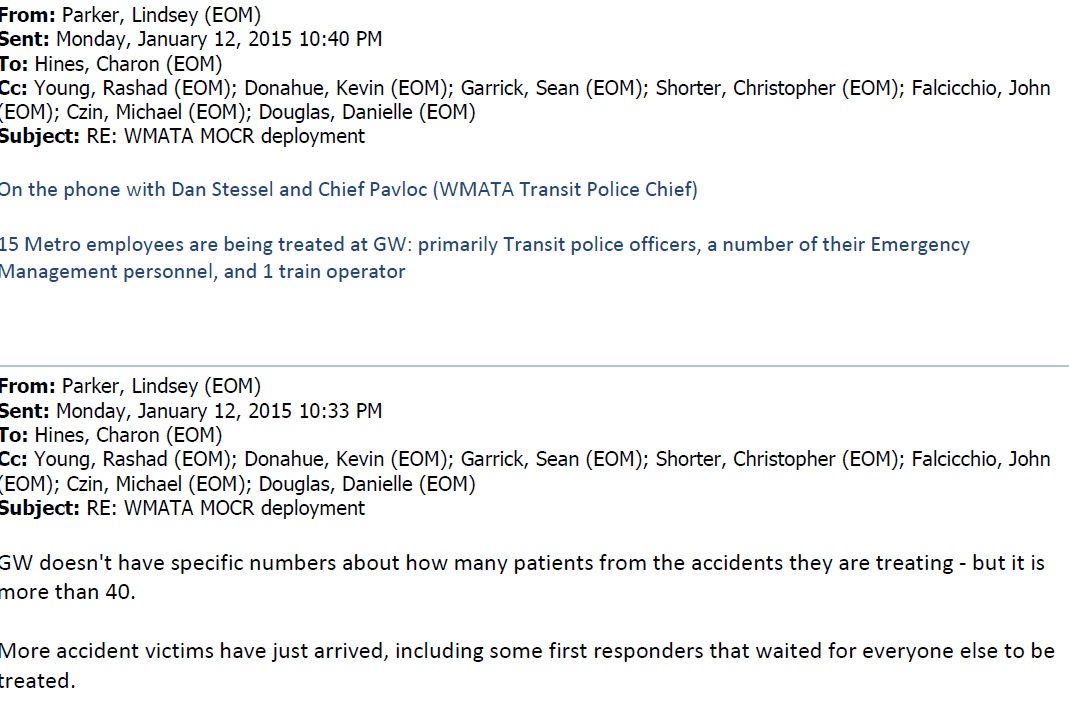 Another email from Parker said first responders delayed seeking medical treatment until passengers and patrons had successfully sought medical attention. In another series of emails, a city official said the Metro Transit Police lieutenant was still being treated at the hospital at 9:42 p.m., six hours after the incident.
That was nearly seven hours after smoke filled the tunnel.
Not all patient information was easy for city officials to ascertain, the I-Team found. The emails indicate city officials struggled to connect with administrators of Howard University Hospital, which was believed to be a possible site of treatment for smoke victims.
Roger Mitchell, the city's chief medical examiner, alerted colleagues twice between 9:52 p.m. and 10:15 p.m. that he was unable to reach Howard University Hospital by phone.
In one of those emails, Mitchell wrote about Howard University Hospital, "Their number rings busy on all lines: main, ER, admissions, radiology, everything we've tried." Mitchell also notified colleagues that he had successfully reached several other local hospitals for updates on patients from the L'Enfant Plaza incident.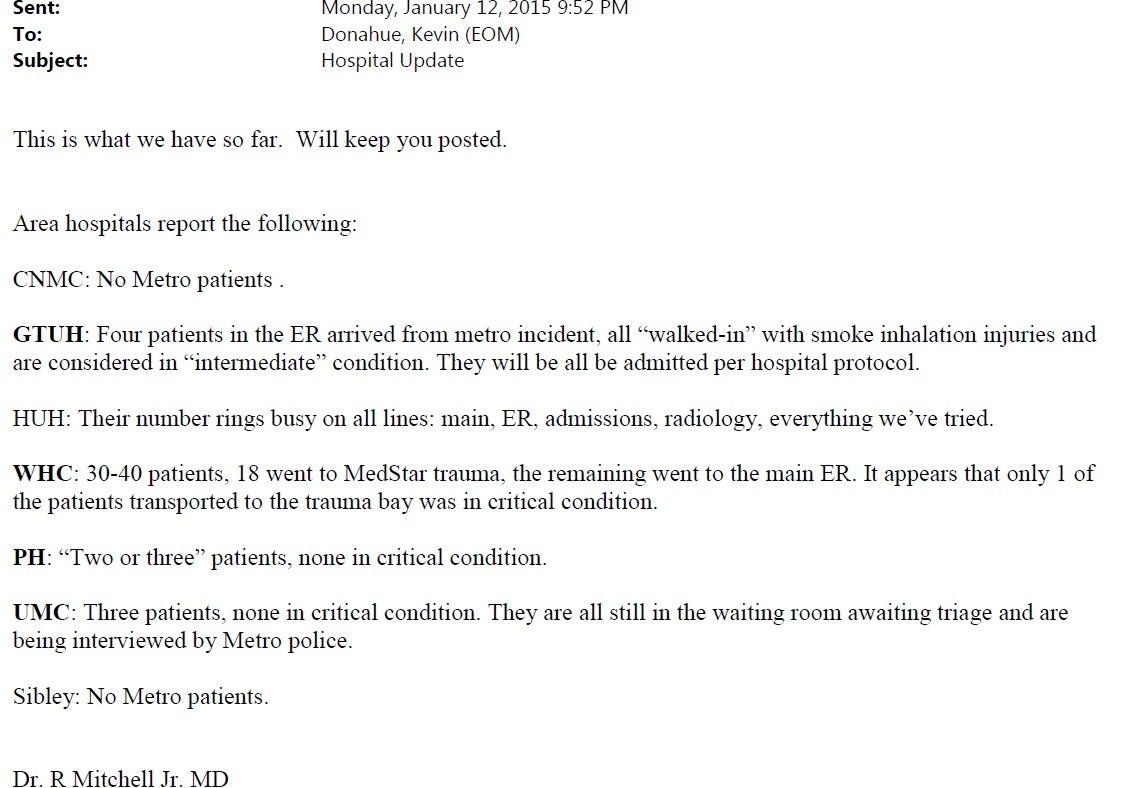 A Howard University spokesman, in response to questions from the I-Team, said, "Howard University emergency personnel were in constant contact with first responders and the District government throughout the incident utilizing various channels of communication. All patients who needed care were received and treated appropriately."
In the immediate aftermath of the smoke incident, top D.C. officials exchanged emails of concern about the well-being of a specific city employee. At 4:55 p.m., less than two hours after the incident, mayoral aide John Falcicchio wrote to colleagues from his phone, "Is that our guy? Is he OK?"
Falcicchio's colleague Lindsey Parker responded, "Yikes. Let us know."
Barry Kreiswirth, a veteran city administrator, also responded. Kreiswirth wrote, "He's OK, but shaken."
A city official told the I-Team those emails reference Jonathan Rogers, a District transportation department staffer whose tweets and emails from inside the tunnel provided some of the most compelling images of the smoke. Rogers would later testify in front of Congress about Metrorail's response to the incident.
Advisors to Mayor Muriel Bowser were monitoring and reporting to colleagues the locations of media cameras in the hours after passengers were rescued according to the internal emails.
Mayoral aide Charon Hines notified colleagues at 9:19 p.m.,"No cameras are on site (at Providence Hospital)." She would also report, "No cameras visible (at Howard University Hospital)." Minutes later, Hines notified top city officials, "L'Enfant Plaza- There are 4 camera trucks at 7th & D. The station is still closed."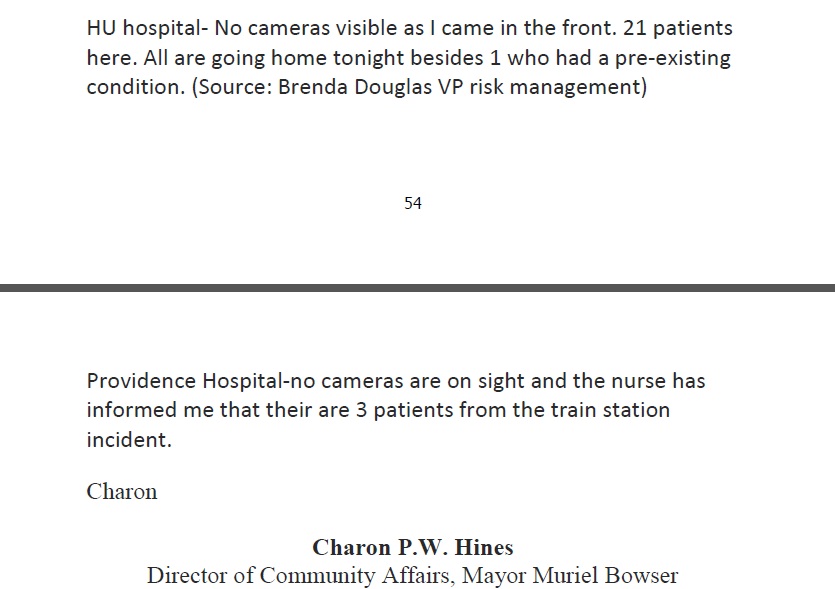 City spokesman Michael Czin said those emails are not surprising. Czin said, "Charon Hines and Office of Community Affairs serve as the eyes and ears of the mayor. They are deployed in emergencies and major events to observe sites, including hospitals."
Parker also notified colleagues at 9:52 p.m. about a suggestion that Bowser visit patients or staff at Howard University Hospital. She wrote, "Dr. Fredericks just confirmed that Howard received 21 patients. Many are still in the hallways receiving oxygen - he believes that they would be happy to see the Mayor walk through. On site contact at Howard: Brenda Douglas, Asst VP.. (She is waiting for the Mayor in the Emergency Room)."
Czin told the I-Team that Bowser did visit Howard University Hospital on the night of Jan. 12.
The emails also include an internal report by the city's homeland security agency which cites leaking water as a possible cause of the smoke. A cause has not yet been publicly cited by Metro, D.C. fire officials or the National Transportation Safety Board (NTSB).
The internal report, issued at 10 p.m. on Jan. 12 said, "The investigation has determined that water leaking on electrical equipment led to the heavy smoke conditions."

A Metro spokesman deferred requests for comment or response to the NTSB. An NTSB spokesman, in response to questions by the I-Team, said there were initial reports of water present in the tunnel.
The NTSB declined to comment to multiple questions about the city officials' emails. Spokesman Peter Knudson said government rules prohibit Metro officials and the NTSB from publicly revealing details on the incident.
Czin, the city spokesman, told the I-Team that the city homeland security agency is preparing a review of internal communication and response to the Metro smoke incident. That report is expected to be released in late spring.
Czin said the city is already taking lessons from the Jan. 12 incident. He said the mayor will take part in a crisis management training session in April. The session will be led by the city homeland security department, he said. Czin said, "The big takeaway (from Jan. 12) is you always have to be prepared."