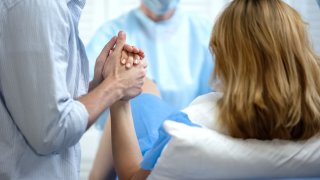 The following content is created in partnership with Virginia Hospital Center (VHC). It does not reflect the work or opinions of NBC Washington's editorial staff. Click here to learn more about Virginia Hospital Center's Women & Infant Health Services.
As recently as a few decades ago, doctors would determine the kind of childbirth their patients would have. But today, women are planning their own unique journeys toward motherhood. Read on to see how medical teams at Virginia Hospital Center partner with patients to make sure their deliveries are as special as they are safe.
Family at the center
While the fundamentals of childbirth don't change, our ideas about where and how to give birth are always changing. Over many generations, we've shifted from low-tech, high-touch home births with higher mortality rates to high-tech, low-touch hospital births that felt sterile and impersonal. Now, thanks to evolved thinking and improvements in the field of labor and delivery, patients can have in-hospital deliveries that balance family-centric care with state-of-the-art medical support.
Personalized experiences
"It's our duty to do our very best to make sure the birth story for every child is a great one," says Mark Tretiak, MD, Northern Virginia Obstetrics & Gynecology Service Chief, Mid-Atlantic Permanente Medical Group at Kaiser Permanente. VHC provides a wide variety of options to suit patients' hopes and expectations, from an in-hospital midwifery service to nurses with expertise in non-medicated labor. "The nurses at Virginia Hospital Center have more experience with natural childbirth than a lot of hospitals," Dr. Tretiak says. In addition, while women over 35 account for 18% of births at VHC, the hospital's C-section rate is significantly lower than other area hospitals. "For first-time moms," says Dr. Tretiak, "the chance of not having a Cesarean delivery is appealing and important."
Katharine Burt, MD, an OB/GYN with the Virginia Hospital Center Physician Group, recommends creating a birth plan that can communicate your preferences. "Whether written or not," she says, "your doctor can add notes about your preferences into your electronic health record to help make sure all members of your care team are on the same page."
Safety first
Patients with complex medical needs can also benefit from a family-centric birth experience. At VHC, an all-female team of Maternal Fetal Medicine specialists provides round-the-clock expertise. "We coordinate with the patient's OB/GYN and other physicians involved in her care," says Kelly Orzechowski, MD, FACOG, VHC Physician Group Maternal Fetal Medicine. The hospital's Level III NICU is managed by neonatologists from the nationally top-ranked Division of Neonatology at Children's National Health System, and all babies have private rooms where they and their parents can bond in an environment that promotes growth and development. Says Brian Stone, MD, MBA, Children's National neonatologist, Medical Director of the NICU and Chief of Pediatrics, "The family is the most important part of the care team."
Virginia Hospital Center has provided exceptional medical services to the Washington, DC metropolitan area for 75 years. Designated as a Magnet® Hospital by the American Nurses Credentialing Center, named a Leapfrog Top Hospital in 2018 and previously named one of America's 100 Top Hospitals® and 50 Top Cardiovascular Hospitals® by Truven Health Analytics, the Hospital includes numerous Centers of Excellence and is a proud member of the Mayo Clinic Care Network. Click here to learn more about Virginia Hospital Center.
6.3.6