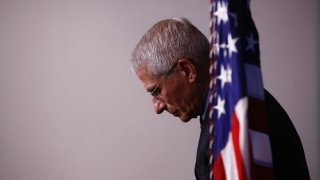 Dr. Anthony Fauci suggested Thursday night that all Americans should be under a stay-at-home order to mitigate the spread of the coronavirus, and that all states should be operating under the same guidelines, NBC News reports.
"I don't understand why that's not happening," Fauci, a member of the White House coronavirus task force and director of the National Institute of Allergy and Infectious Diseases, said in an interview on CNN.
There has been no federally mandated order for everyone to follow the same guidelines, and Fauci appeared to stop short of endorsing one by the Trump administration.
"The tension between federally mandated versus states rights to do what they want is something I don't want to get into, but if you look at what's going on in this country I just don't understand why we're not doing that — we really should be," he said.
Coronavirus Pandemic
Full coverage of the COVID-19 outbreak and how it impacts you and our communities